Austin Affiliated Family
Flora Austin married Isaac Guilford "I.G." Van Leer on October 25, 1876 in Fannin County, TX. She was the daughter of David Brice Austin and Mandana Jones, the daughter of William Jones and Mary Virginia Jennings. [Go to Jones Family History.] Both the Austin and Jones families first settled in Virginia and moved Westward through Tennessee and Missouri before settling in Fannin County, TX about 1850.
The Austins are a dynamic family with a unique history of their own. While cohesive as a family group, the Austins were unusually adventuresome and independent in their thinking:
Five Austin brothers, including Flora's father, went to the Gold Rush in California in 1849, sailing under South America.

Although of Southern heritage, they seem to have been Unionists (or neutral) during the Civil War. Flora's parents moved the family to California during the War to avoid service. Her uncle, John Overton Austin, served in the Reconstruction Congress.

They were fervent supporters of the Disciples of Christ (later called Church of Christ and Christian Church), a newly formed "back-to-the-Bible" Protestant sect that broke off from the Presbyterian Church.
Flora Austin brought her religious convictions–and, perhaps, some of the Austin independence to the Van Leer family.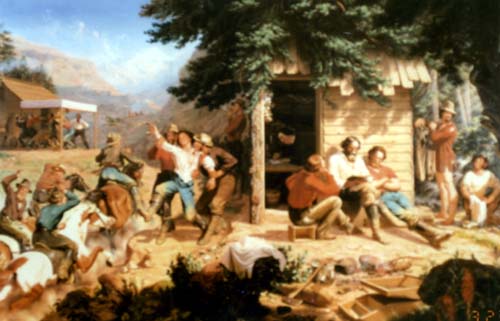 Flora's father, David Brice Austin, practiced several occupations:
Farmer/Rancher
Carpenter
County Surveyor
Minister.
Austin Family History – 1st American Generation
The Austins have been traced back to the mid 1700's Hanover, Virginia, by verifying information in a marvelous letter by John Overton Austin to his sister in 1907. There is evidence that the first American Austin's name was "John."
For full text of John Overton Austin Letter, 1907Click Here
John O. Austin recounts the stories told him by his grandfather regarding the first Austin immigrant. While we have not been able to confirm this story, there is surely some element of truth in it.
"I write things that I remember, that my Grandfather and Uncle Wat [Walter] Austin told me, when I was a boy. What I write, I remember well, being 10 or 12 years old. My Great Grandfather was banished from England, to the Colonies, in America for killing a man. The circumstances were about this. The people of England were divided, in their opinion, about witches, hobgoblins, and other scary things that appeared after dark. Some believed there was such things others did not. Grandfather, made fun of those who believed such nonsence [sic].
"One man said he would bet $100.00 dollars that no man could cross a certain old bridge, built on a milldam, that was said to be haunted; that no man could cross that bridge, after dark that he would be scared back, by scary things.
"Now said he, 'I will bet 100 dollars with any one, who will undertake it.' Our Great Grandfather was then a young man, and was not afraid of anything. So he took their bet and the money was put up. When the day came there was a crowd on each side of the bridge, to see him cross. He was not allowed to have any weapons but a finger stone in each hand.
"When he got about midway the bridge he saw a white object rise up before him. He stopped near the hobgoblin. He spoke in a loud voice, 'Who comes there 3 times.' Not a word was said. The thing stood still. It looked like a man wrapped in a white sheet. It stood in his way. He stepped a few steps nearer, and stopped. Now said he, 'Man or spirit, or whoever you are, get out of my way. I am going to cross this bridge.' But the thing stood still. He threw a rock. They heard the rock strike the ghost, and Mr. Ghost fell dead, and young Austin walked by him across the bridge, and won the money.
"The next morning, they found the ghost to be a dead man, wrapped in a white sheet. It caused great excitement. A search was made, and they found, that a gang of men had a den in the old dam making counterfeit money. The discovery of this den, of counterfeiters, pleased the English people so much, that fearing that some of his enemies might seek his life, they put him on a ship and sent him to America, to the English Colonies for safety.
"Now, when he got to America, he went to Louisa Co., Virginia, and fell in with some of, what was called 'The first families of Virginia.' Among them were the Henries, the Sheltons, the Canlies, and other rich aristocratic families. About the richest among them, was Peter Shelton. He owned a 7 mile Land of Tamonkrey river, and about 100 Negroes.
"This brave young Austin soon won the favor of these rich families so that he married a relative of the great orator and statesman Patrick Henry.
"I don't remember whether she was the Sister, Aunt or Cousin. But she was a relative of Patrick Henry, who said 'Give me liberty or give me death.' They raised 7 sons, who all served in the Revolutionary war. "
There are records of Austins living in Hanover County, VA in the mid 1700's. Patrick Henry's family did live in the neighborhood, but we have no confirmation of a relationship to the Austins. Patrick Henry's wife's maiden name was "Shelton." John Wilson Austin married Lucy Shelton. The Austin relationship could be to the Shelton family – but we have not been able to confirm that either.
John Wilson Austin – 2nd American Austin Generation
According to the John Overton Austin 1907 letter, the 2nd American generation included 7 sons. Five moved away; two remained in the Hanover-Louisa area–his Uncle Walter (written as "Watt" in John. O. Austin's 1907 letter) Austin and his father John Austin. Walter Austin filed for a military pension in 1818, confirming his military service.
"At the close of the war, the 7 brothers scattered about, and I can't remember where they settled. But Grandfather, and Uncle Watt settled in Louisa County, and married a daughter of the rich, old Peter Shelton.
"Now comes the great calamity that took the property from old Peter Shelton and his children. He went security for everyone that asked him, for large sums of money, and there came a financial crash. He was sued as endorser on the notes, and his land and Negroes sold; and his children left poor. One John L. Harris began the raid on him, and the sheriff sold, 60 Negroes at one time.
"My Grandfather, and Uncle Walter, told me about these things, when I was a boy."
John O. Austin Letter, 1907
Various Austin family researcher have tried to identify the other 5 brothers – but the proof is not solid. Possibly brothers include Henry, William Fifer, Isaac, Richard, Thomas, Stephen, and Moses. In the 1787 Census of Hanover County, VA – Richard Austin and Thomas Austin are listed near John and Walter.
There are confirming records that John Austin was born in 1751 and married Lucy Shelton on September 7, 1784 in Louisa County, VA. She was the daughter of Peter Shelton (see below) and Francis Nuckols. Her mother, Francis Nuckols, was the daughter of Samuel Nuckols who was born in England in about 1700. The Goochland Baptist Church (Virginia) was generally know as "Nuckols Meeting House" in the 1700's.
Lucy Shelton Austin died about 1801; she was already deceased when her father made out his will in 1803. The will filed in Louisa County does reference his son-in-law, John Austin.
John Austin applied for a U.S. pension on Sept. 24, 1818 from Sumner County, TN. He stated he was 67 years old and had entered service from Hanover County, VA in 1776.
The Austin Family Association of American www.afaoa.org includes an item submitted by Mrs. Frank W. Austin of Abilene, Texas in 1970 as part of Edit Austin Moore's Miscellaneous Austin Records, Volume 2. This researcher used published documents and private letters from Mary Emily Austin Jones (probably the 1907 letter from her brother, John O. Austin) and private letters from a SISTER to David Shelton Austin, Theodocia M. Austin who married Chisholm Davis. Mrs. Frank Austin is a descendant of David Shelton Austin's son Thomas Joran Austin, born 2/14/1828. She identified 9 children of John Wilson Austin and Lucy Shelton:
David Shelton Austin – Child followed by this website.
Fleming Austin
Maria Austin, who married Peter Hedges
Elizabeth Austin, who marred a Mr. Maid
Peggy Austin, who married Overton Mallory 12/11/1807 in VA
Theodocia "Docia" Austin, who married Chisholm Davis 3/9/1812 in Goochland County, VA. They are listed in the 1820 Sumner County, TN. Her brother, David Shelton Austin, moved his family to Sumner County about 1828.
Nancy Austin, who married Mr. Benton
Brice Austin
John Austin.
David Shelton Austin – 3rd American Austin Generation
David Shelton Austin was born about 1790 in Louisa. He served as a private in the War of 1812 in the 7th Virginia Regiment under Lt. Col. William Gray in 1814-15; his brother, Fleming, was a corporal. This was a defensive unit and saw no action.
David Shelton married Polly Lowrey, daughter of Overton Lowrey and Nancy Thacher on Nov. 15, 1816 in Goochland County, VA. No additional information has been located on the Lowrey family. Her mother, Nancy Thacher's descend is known to be:
Grandparents: Samuel Thacher and Deborah Bennett
Parents: Peter Thacher, born about 1750 and Berthia Carpenter.
David Shelton Austin and Polly Lowrey had 7 sons and 3 daughters. The family moved to Sumner County, TN about 1828.
| | | | |
| --- | --- | --- | --- |
| | Name | Birth | Comments |
| 1 | John Overton [View photo] | 1819, VA | Married, first Missouri Jones in Missouri. Married second, Minerva Jane Bassham in 1860. Member of 12th Texas Legislature during Reconstruction. [See photo and description of activities of Legislature.] |
| 2 | William Shelton | 1820, VA | Married Lucy Davis in Tennessee. Settled in Fannin about 1860. He was a hotelkeeper in Dodd City in 1880's. |
| 3 | David Brice | 1822, VA | Married Mandana Jones in 1850. Farmer, carpenter, minister of Disciples of Christ. He died in 1884 in Coleman County, Texas. This is line followed by this website. |
| 4 | Lucy Ann | 1825, VA | Married James Kelly in Sumner County, TN. Stayed in Tennessee. |
| 5 | Albert Warren | 1827, VA | Married Martha Wilson in Collins County, TX in 1852. Carriage-maker in Bonham in 1860. |
| 6 | Thomas Jordan | 1829, VA | Married Francis Hern. Listed in 1860 Collins County, TX census. Died 8/1/1912 in Baird, TX. |
| 7 | Matthew Jones | 1830, VA | Living in California as early as 1856. In Los Angeles, CA in 1888. |
| 8 | Maria Eliza | 1832, TN | Deceased by 1911. |
| 9 | Mary Emily [View photo] | 1835, TN | Married Hillard Miles Jones in Missouri in 1848. Moved to California about 1860. Died 1915 in Alameda County, CA |
| 10 | Granville Thompson | 1841, TN | Married Mary Elizabeth Bassham in 1860 in Fannin. Moved to Sonoma County, CA in 1860 where he owned a stock ranch and vineyards. Died in 1928. |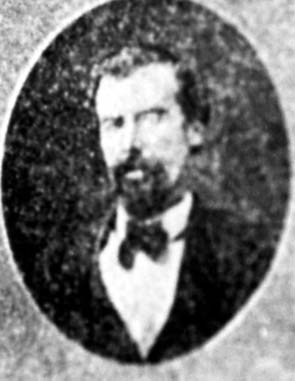 David Brice Austin – 4th American Austin Generation
Flora's father, David Brice Austin, the 3rd child of David Shelton Austin and Polly Lowrey.
After their parents died in Tennessee, the older sons cared for the younger children. Most of the Austin clan moved to Missouri in the late 1840's where they established a strong bond with the Jones family, making William Jones the patriarch of the entire clan. Three of the Austin siblings married three of the Jones kids.
Interestingly, another Austin family that originated in the Hanover County, VA area moved to Lafayette County, MO in the 1830's–another John Austin (born 1806). This Austin line is well documented at http://www.ur-website.com/ct/austin.html starting with a William Wilson Austin who could be a brother to the "Hobgoblin" Austin. It is not known if David Brice Austin family's move to Lafayette County, MO was motivated by the presence of distant kin.
While five of the Austin brothers were in California seeking gold, William Jones moved most of the Jones family to Texas. His married daughter Missouri (John Overton Austin's wife) and their child, Leanara, are included in the William Jones household in the 1850 Fannin County census; apparently John had not yet returned from California.
By the late 1850's most of the Austins and Joneses were living in Fannin County. Then, a typhoid epidemic claimed the lives of four of the Jones family in the 1859-60 period. Several continued the westward movement, settling in California.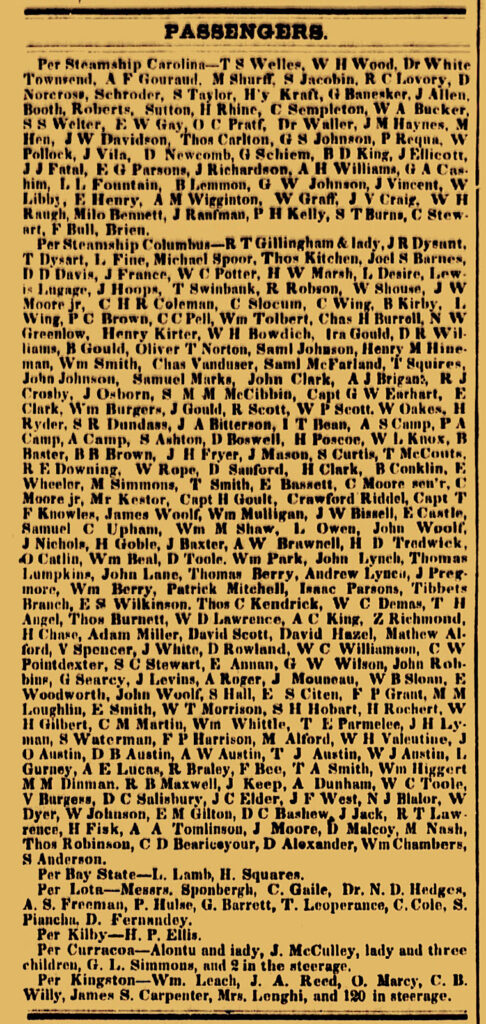 The Austins During the Civil War and Reconstruction
The Austin family differed significantly from the Van Leers during the Civil War years. David Brice Austin moved his family to California where relatives had already settled. He was registered to vote in Mendocino on December 10, 1866. This section of California is documented to have been "sympathetic to the South," but they did not participate in the rebellion.
After the war, some of the Austins return to Fannin County. The William Jones estate was not settled until 1877; David Shelton Austin also sold his Texas property in 1877.
David Brice Austin and Mandana Jones had 5 children: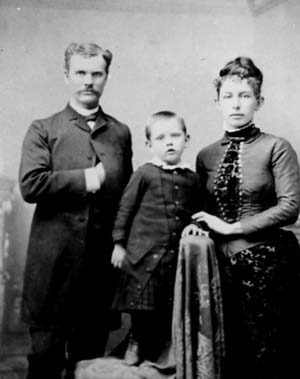 Leona, b. 1853. She married R. A. Henderson. She lived in Fannin County, TX. Died before 1888.
Flora, b. 1856. Married Isaac Guilford Van Leer. Died April 6, 1885 in Coleman County, TX
Shelton W., b. 1858. Living in Phoenix, AZ in 1888.
Etta J., b. 1860. Married J. W. Fulton. Living in Los Angeles, CA in 1888. The town of Fulton was named for his family.
Mary, b. 1863. Died young. No descendants.
David Shelton Austin died 7/7/1884; his wife, 8/9/1884 in Coleman County, TX. Their daughter, Flora Van Leer, died a few months later. All died of typhoid fever.
Shelton Family History
The Shelton family history has been published in numerous articles and books, tracing back to the Lords of Shelton Manor in Norfolk County, England in the Middle Ages. One of the best books is by Kathryn Morris Brown. The information is also on a Family Tree Maker website. The documentation linking the American Sheltons to the English nobility, however, are very weak. This researcher has only been able to confirm Lucy Shelton's father–Peter Shelton. It is, however, very likely that the Louisa and Goochland County, VA Sheltons are part of the Peter Chilton family that came to Virginia about 1680 and lived in Amelia County and Middlesex County, Virginia. "We Cousins" by Florence S. Hudson, McClung Collection, Lawson McGhee Library, Knoxville, Tennessee appears to be accurate.
Peter Shelton was born about 1734. He married Frances Nuckols of Goochland County, Virginia about 1755. They lived most of their lives in Louisa County, VA. [See 1907 John O. Austin letter regarding Peter Shelton.]
According to "Gwathmey's Historical Register of Virginia in the Revolution" (page 706), Peter Shelton was a 2nd Lieutenant in the Louisa County Militia. He died in 1801. Their children included:
Samuel Shelton, born 11/3/1758. He married Jenny Henderson. He was living in Mercer County, KY when his father died.
Elizabeth Shelton. Married John Atkinson 9/13/1778.
Lucy Shelton, born 12/3/1764. She married John Austin 9/7/1784. This is the line followed by website.
Frances Shelton. She married John Hodges 9/17/1790 in Goochland.
Thomas Shelton, born 3/2/1768. He married Milley Atkinson.
Judith Shelton, born 10/8/1769. Married Mager Parrish in 1788.
Henry Shelton. He moved to Scott County, Kentucky.
David Shelton. He married Henrietta Thompson and lived in Nelson, KY.
Susannah Shelton.
Merinda Shelton. She married Joseph Atkinson. She lived in Hanover Co., VA and was left out of her father's will because she had not obeyed him.
Mary "Polly" Shelton. Married William West in 1790.