VANLEER FAMILY – EUROPE

Hans Valär of Switzerland
The Van Leer family history begins in the Prättigau mountain area near the village of Fideris in what is now the canton of the Grisons.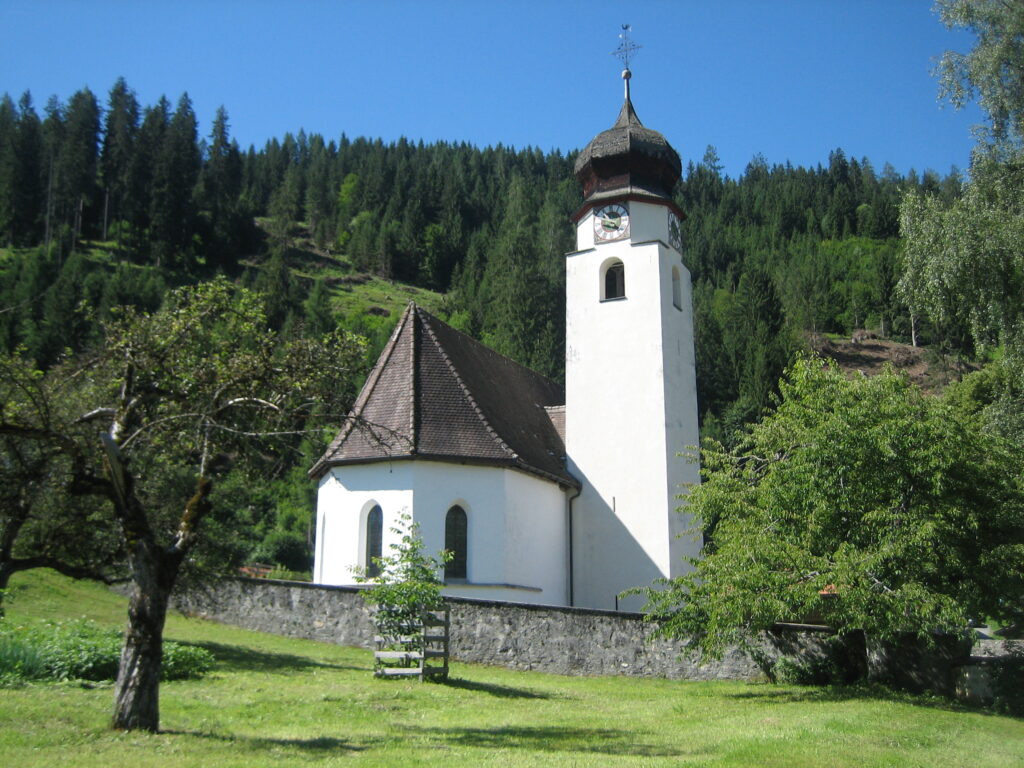 This Swiss district was called Rhaetia during the Roman Empire (15 B.C. – 260 A.D.). The native inhabitants were of a mixed tribe of Celts and Etruscans. As masters and settlers, the Romans permanently influenced the culture and language of Rhaetia.

German conquest (The Alamannia) replaced the Roman culture and language in most parts of Eastern Switzerland. However, a version of Latin continues even today in the Grisons (Rhaeto-Romansh).

Hans " Valär" (Generation 1) sometimes "Valër," "Vollär," "von lär," or Vollers has a connection to the Valär family and the Valär castle in Fideris. According to the writer Dr. Gaspey, there once stood a castle Valär or Valer, the property of a powerful family, scions of which still exist. When visiting, he toured ruins of fort castles belonging to people of Prättigau who left their task masters. It is also possible that Hans was one of many relatives or simply lived and worked at the castle. E.g. Hans and other relatives could have been a bondsman, guard etc. It is not uncommon for people to use a surname of their hometown. E.g. von and van in German or Dutch meant "from." The unique letter "ä" and pronunciation of last names also varied depending on the city he was in. Hence using different last names. Notice Van Leers alternating from Valär, von lär, von Löhr, von lähr, von Leer and eventually Van Leer depending on geographical location. We do know through archive documents our first ancestors used the Valär surname and later variations throughout history. Family genealogist Ella Wall Van Leer was able to trace all variants above to common ancestors and origins, however not "Van Lear" "vanlier" or "Vanlear."

According to documents provided by the Rhaetian Museum in Chur, it is believed that the Valär family and town folk were descended from a Rhaetian nobleman named Valerius. The name was spelled "Vadrain" or "Foedrain" in Romansh. German spellings are common starting in the 14th century.

The Valär family tree includes a knight who fought in the crusades. Positions held by the Valärs in the 14-17th centuries included "overseer of castle record" and "bailiff" at various villages in the Prättigau. (Ref: Swiss Archives)
The Battle of Grandson, 1476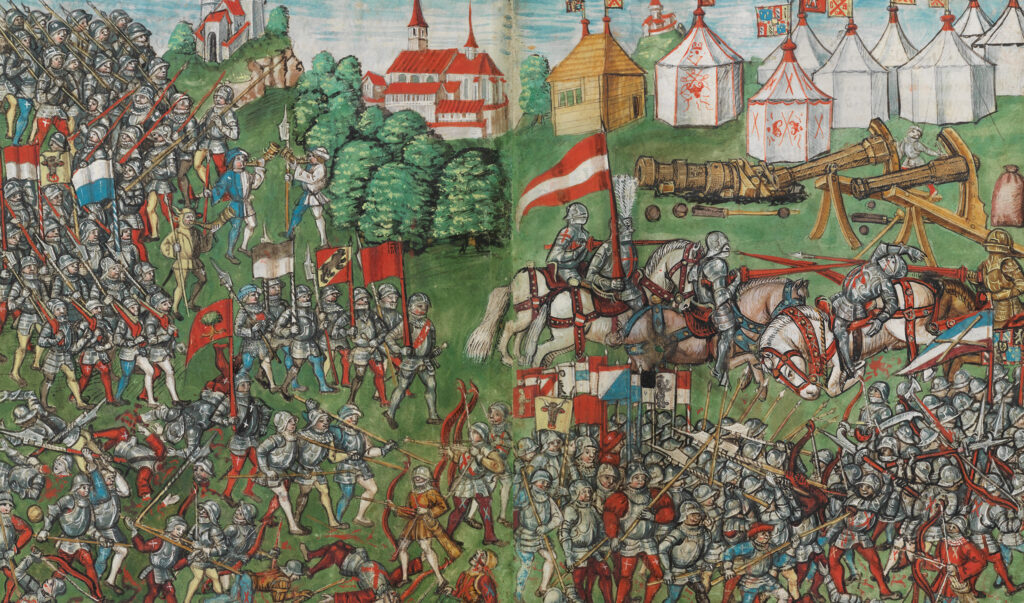 March 2, 1476, is a red-letter day in both Swiss and Van Leer history.
At the conclusion of the battle, our ancestor Hans von Lär, Vollers or von Lähr from Prättigau was awarded with treasure and elevated to the "burger" class in the city of Zurich. Hans officially registered his coat-of-arms in Zurich in 1488 as Hans "von Lähr". (Ref: Swiss Archives)

Since the Grisons did not participate in the Burgundian War, Hans had to of moved to Zurich just prior to the war and fought for Zurich. As an immigrant from the Grisons, Hans probably spoke both Romansh and German, hence variations in name spelling.

The literature available indicates that Hans was basically a "nobody" before March 2, 1476, and it does not detail what he did to earn this elevation. Recent data from Swiss Archives does document Hans with his son registering for multiple archery tournaments prior to the war.

The burgers of 1476 represented the middle class of tradesmen and artisans who–along with the nobility, elected city officials and established laws.
The Battle of Grandson was a crucial battle with Burgundy. The Swiss played a decisive role in rebuffing the attempts by the King of Burgundy from expanding his kingdom which lay between Louis XI's France and Emperor Frederick III's Holy Roman Empire.

After Switzerland had, by her own strength, overthrown one of the powers of Europe, the bonds uniting her to the Holy Roman Empire were gradually slackened. Although technically a part of the Holy Roman Empire, the "idea" of a separate Swiss identity was born on the battlefield of Grandson.
Kaspar and Christoph von Lähr – Gold Merchants
Hans, the hero of Grandson, lived in Zurich after the Burgundy War.  His son, Kaspar von Lär, sometimes von Lähr (Generation 2 in this document) established a business in the gold trade which was continued for several generations. Goldsmiths at the time specialized with gold and other precious metals. The trade has very often included jewelry-making skills and used a furnace in the process. As artisans, goldsmiths enjoyed very significant prestige in medieval Europe and later in the 17th century as bankers. (Ref: Swiss Archives)

Von Leer's were members of the Saffron guild in Zurich

Kaspar's son Christoph (Generation 3) was also a gold merchant and a member of the Saffron guild. According to the Vanleer papers on file at Chester County Historical Society in Pennsylvania, Christoph was identified through a marriage record; he married Sophie Schäfer in 1564 at the Zurich Cathedral. While here, there are records of possible siblings immigrating to Germany during this time
Johann Theobald von Lähr the First Family Scholar
Johann Theobald von Lähr, sometimes Löhr depending on location (Generation 4) is described in the above Zurich reference as the "first scholar" of the family.  He was Pastor of Kurzdorf and Netenbach in Switzerland in 1610 and later "schoolmaster" in Birstein.  A second biographical sketch was located of Johann Theobald after he moved to Germany about 1613. This reference documents that he attended Heidelberg University in 1596.  He was a clergyman in Birstein, Germany during the 30 Years' War between Catholic and Protestant forces.  One of the Von loehrs or von Löhrs Werner became Mayor of Maintz. Von Löhrs still flourish in Germany to this day.
The 30-Years War
The Protestant Reformation (from 1517 when Martin Luther first challenged church authority to 1648 when the Peace of Westpalia was signed) was a volatile period in European history when religion became one component of significant social changes:
Nation states replaced medieval fiefdoms
Technological advances (i.e. the printing press) made basic changes
The class struggle emerged as a political force.
The Thirty Years' War covered the period 1618-1648. Germany was the battleground between Protestant and Catholic powers. The death and destruction experienced by Germany during the Thirty Years' War was proportionally greater than that experienced during World War II. The devastation is difficult to comprehend. There was constant brutal warfare between outside armies. Each army burned the peasants' crops, murdered, raped, plundered. Plague, disease and starvation accompanied the military violence.
The Heidelberg Calvinists were a leading force among the Protestants. Johann Theobald von Löhr would have been in the midst of the upheaval when he attended Heidelberg in 1595. And as clergyman for the state church in Birstein in the County of Güdingen between 1614 and 1624, he would certainly have been involved. He died during the war years, but there is no record as to the cause of his death.
Johann Balthasar von Löhr of Birstein, Germany
Johann Balthasar (Generation 5) is listed as the oldest child of Johann Theobald von Löhr in documents supplied by Hessisches Staatsarchiv Darmstadt.(Ref: Swiss Archives)
The Hessian Genealogical Society of Darmstadt provided additional information:
Johann Balthasar von Löhr (Generation 5), a citizen of Birstein and church warden of Birstein, was still  living on Feb. 11, 1679.  He married  Katharine Reiffschneider, the daughter of Zacharias Reiffschneider of Fischborn; she was buried in Zurich on Feb. 11, 1679.   Four children were listed: 

6.   Anna Amalia, born 1659.  Married Conrad Jacob Kemp in 1677.  Her second husband was Konrad Jacob Hermann.  No additional information has been located.

6.   Johann Balthasar von Löhr II, born 1661.  Married, first, Elizabeth Schmitt in 1679.   In 1689, he married a second time to  Sophia Layos.   The German and Russian descendants of one of their children-

6.  Johann Ernst von Löhr, 1665-1670.

6. Johann Georg von Löhr (Generation 6), was baptized on July 21, 1667.  The American line came through this youngest son. He changes his name
While working as a merchant in London, Johann Purchased 5000 acres of land with the province of West New Jersey America. Johann changed the spelling of his name to von Leer for the phonetics and to revert to Swiss form. He stayed sometime in Philadelphia as a doctor or Merchant of drugs and owned property there.
Throughout the 1950s, Ella was able to connect all "Von" and "Van" Leers. Many Von Leers and Van Leers stayed in Europe and flourished.