General "Mad" Anthony Wayne
Anthony was an American military officer and statesman who joined the American Revolutionary War with enthusiasm. His significant contributions to the success of the Revolution are widely documented and there are numerous published biographies available. The most accurate book about Anthony is probably the most recent book "The Unlikely General" by Mary Stockwell, which celebrates all of his strengths along with many human flaws. At the Van Leer Archives we focus more on his personal side with a letters about his relationships with family, sisters and the Van Leers.
Archive Description
The story of the famous Van Leer neighbors known as the Waynes can be found here. It is tradition that fiery "Wayne" blood runs through Van Leer descendants as a positive and negative character trait depending who is asking. Van Leers in Pennsylvania are recorded in the Estelle Cremers book as being graceful, yet not afraid of confrontation, which aligns well in service for a general such as Anthony Wayne. For an example letter between Uncle Anty Wayne as he liked to be called, you can see a letter under Samuel's page after his sister died.
While still in his teens Wayne came to the attention of Benjamin Franklin as an exceptionally capable and reliable young man. He headed an expedition for Franklin to explore settling Nova Scotia in 1666-67 when he was only 20 years old. His job included surveying the land, procuring land patents, supervising settlers, etc. Historians believe that it was Benjamin Franklin's support that won Wayne his commission as colonel in one of the four Pennsylvania Regiments on Jan. 4, 1776. He was promoted to Brigadier General on Feb. 21, 1777 and to Major General and Commander-in-Chief of the American Army in 1792. Wayne is credited with playing an important role in keeping some of the early defeats from being disasters–Brandywine, Paoli, Germantown. And in the later years, it was Wayne who commanded stunning victories at Stony Point, Yorktown, Savannah, and Fallen Timbers. His fanatical determination earned him the nickname "Mad" Anthony Wayne. While his letters do indicate a real warmth for his children, his letters to his wife, Polly, are businesslike. On several occasions, he was called to Philadelphia on business, but would not bother to visit Paoli (only 15 miles away). Up until recently, there has not been a book which delves deeper into why and The Unlikely General does a great job filling in the gaps.
Legacy
Wayne would later be praised by President Theodore Roosevelt as America's best fighting general.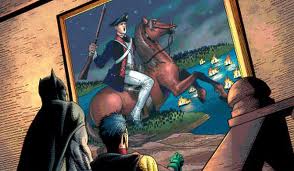 Wayne is also the namesake in which Batman's secret identity, Bruce Wayne, with Batman co-creator Bill Finger citing both Robert the Bruce and "Mad" Anthony Wayne as the two sources of the fictional character's name. That's right, Batman is named after Anthony Wayne!
Wayne also appears as the leader of a ghost army in IDW Publishing's Ghostbusters comics.
Memorials
Main article: List of memorials to Anthony Wayne
The door in Senate room 128 features a 19th-century fresco painting by Constantino Brumidi named "Storming at Stonypoint, General Wayne wounded in the head carried to the fort."[57] On September 14, 1929, the U.S. Post Office issued a stamp honoring General Wayne which commemorated the 135th anniversary of the Battle of Fallen Timbers. The post office issued a series of stamps often referred to as the "Two Cent Reds" by collectors, most of them issued to commemorate the 150th anniversaries of the many events that occurred during the American Revolution. The stamp shows Bruce Saville's Battle of Fallen Timbers Monument.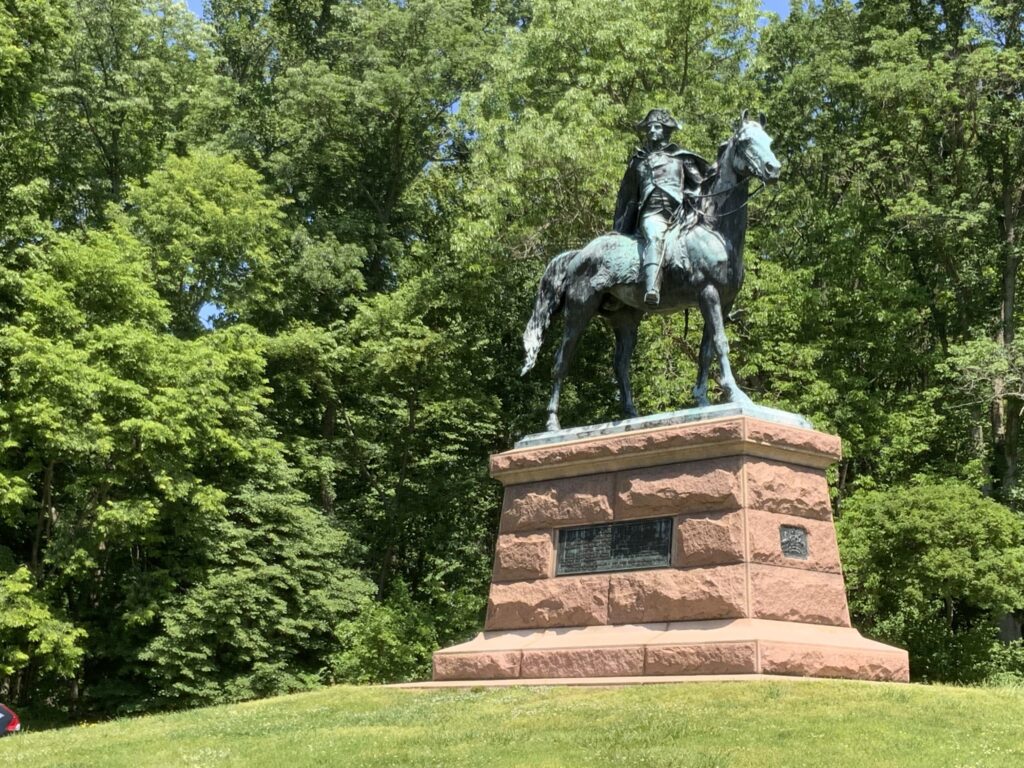 Descendants and other relatives
The Wayne name due to be neighbors, finally by marriage and now blood is passed down through many Van Leers, which can be found through the family tree.
Some relatives and descendants include:
Isaac Wayne (1772–1852), Wayne's son, was a member of the U.S. House of Representatives from Pennsylvania.
Captain William Evans Wayne (1828-1901), fought in the Civil War for the Union.
Isaac Wayne Van Leer (1846-1861), enlisted for the Union during the Civil War at age 15 and was documented in several publications for his patriotism.