GEORGE VAN LEER
GENERATION 8.1 – OLDEST CHILD OF BERNARDHUS VAN LEER

George born Feb 1, 1734, lived most of his adult life in Gloucester County, NJ. He married Elizabeth Roberts; 11 children were mentioned in his will (Book of Divisions A – Woodbury, NJ).
He was a member of the committee that selected New Jersey's representatives to the Continental Congress in 1776 where the Declaration of Independence was written. He also received the honorary title of Colonel.  The house made of red brick on the old Grand Sprute Plantation was built by George. Apparently the location was a great spot for traffic as a trading post. Lumber was milled on the property. According to the Swedesboro Church, George was a generous and active donor. Giving thirty pounds on many occasions. Rev Nicholas Collins wrote several notes about the Van Leers, i.e. "One of the best families" and "extremely generous and graceful." He was listed as a vestryman and Junior Warden serving until his death. George passed April 22, 1807 at the age of 73. Native Americans were recorded living on George's property, even as late as 1825. Like many Van Leers in Pennsylvania, his children would join the "Abolition Movement," many obituaries of his children offered credence, i.e. attended "1852 Free Soil Convention" or "earliest member of the "Underground Railroad." He owned tracts of land including the Sprute Plantation with his brother Samuel and Branson. The family plantation remained in the family for 100 years until it was eventually acquired by the Schorn family. We're very grateful for the Schorn family and their generosity for preserving the Cabin and property. This is all cited and sourced by the Gloucester County Historical Society.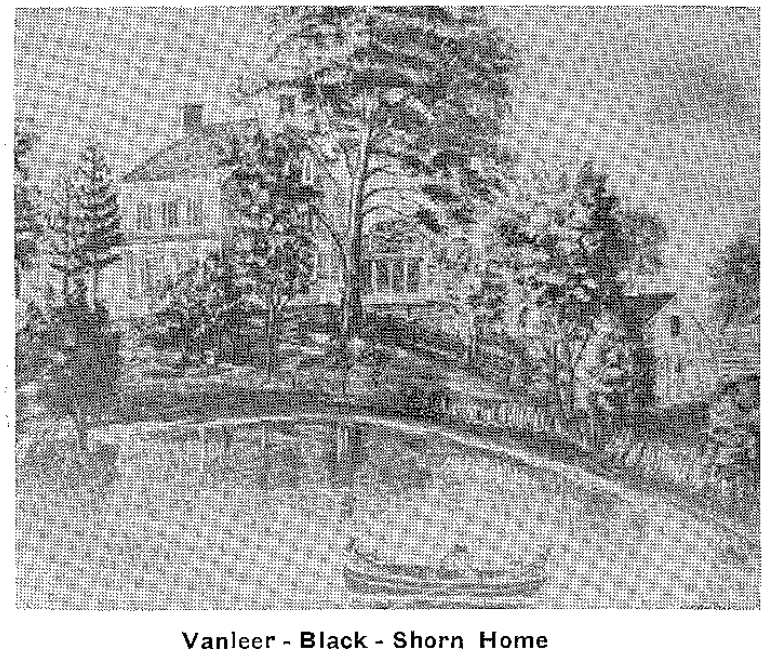 He is listed in the DAR Patriot Index  for performance of a "public service."  The "Vanleer Papers" at the Chester County Historical Society included an excerpt from a minister's journal dated 1783 that reveals their circumstances during the Revolution:
"On Sunday afternoon in May I preached at the house of George Vanleer, whose wife was on her deathbed. The parents and their eldest children had been baptized by Provost Wicksell. Now, I baptized the three youngest aged 9, 6, and 2 years (respectively). The reason given for the delay was the miserable times. Their son-in-law had belonged to the English party and had lost all his property. They acknowledged their neglect, however, and she was very glad to see them baptized before her death. My last visit there on the day before her death, which she expected with christian patience. I also gave her the Lord's Super. The text for the funeral sermon was "And God shall wipe away all tears from their eyes", etc. Rev. 21:4. She had suffered much during her several years of illness and pain, which often kept her in bed. The misery of the war also hastened her end, as well as that of others."
The Journal & Biography of Nicholas Collin – 1746-1831
By Amandus Johnson, Philadelphia, 1936, p. 167-168.

He was an active Justice and magistrate at the Woolwich township. Sometimes listed as Esquire and as a Committee of Observation member. His daughter Beulah who married Joseph Walker greeted Lafayette when he returned to the US the second time.
Descendants included in the "Vanleer Papers" at Chester County Historical Society are reproduced below. The "Vanleer Papers" give credit to Dr. M. Stanley Black of Wenonah, New Jersey, for providing the records on the descendants of George Van Leer in the 1930's. Additional information was provided by Chad Nichols [www.nicholsfam.org] in 2006.
Descendants begin with George Van Leer's children–Generation 9.

9. Mary Van Leer. (1) Born 7/20/1757. Died 7/15/1812. Unmarried.
9. Hannah Van Leer. (2) Born 1/27/1759. Married Harrison Wells about 1779. Harrison was a member of the English party, and his property was confiscated during the War of Independence.
10. Elizabeth Wells. (1) Born about 1779. Married Abraham Mendenhall of Mill Creek Hundred, New Castle County, Delaware about 1799.
A comprehensive genealogy is available of the descendants of Elizabeth Wells and Abraham Mendenhall at www.nicholsfam.org. The Mendenhall family settled in Utah in the 1850's. Their family history is well documented at the referenced website.
10. Margaret Wells. (2) Born about 1781. Married Mr. Springer about 1800. Second, married George Pearce, Esq. of New Castle, Delaware on 6/13/1816.
10. Seth Wells. (3) Born about 1783. Married Sarah in 1806.
10. George Wells. (4) Born about 1785.
10. Mary Wells (5) Born about 1787. Married Benjamin Gregg of Mill Creek Hundred, New Castle County, Delaware about 1808.
10. William Wells. (6) Born about 1789. Living in Baltimore, Maryland in 1814.
10. Harrison Wells, Jr. (7) Born about 1791. Living in Baltimore, Maryland in 1814.
10. Hannah Wells. (8) Born about 1793. Married John Duncan, New Castle in 1814.
9. Beulah Van Leer. (3) Born 7/16/1760. Died about 1823. Married Joseph Walker after 1786. Family tradition stats she was on the committee and greeted Lafayette on his second return to the U.S.
10. Elizabeth Walker. (1) Married a Mr. Kinsman.
11. Henry T. Kinsman. (1)
11. Elizabeth Maria Louisa Kinsman. (2)
11. Charles W. Kinsman. (3) Born about 1806. Married Miss Chaloner about 1828.
10. Beulah Walker. (2) Born June 1801. Died 6/27/1801. She is buried in the same grave with her uncle, William Vanleer.
9. William Van Leer. (4) Born 6/25/1762. Died 6/29/1800. Married Mary Dericson 5/8/1787. Buried at Trinity Episcopal Church, Swedesboro, Delaware.
10. Mary Van Leer. (1) Born about 1788. Married Samuel Dyer May 1813. He was son of William Dyer, Sr. Mary died about 1823. No children.
10. William Van Leer. (4) Born about 1790. Married Ann Eliza in 1814. Moved to Baltimore, Maryland.
11. Mary Virginia Van Leer. (1) Born about 1815. Mentioned in Beulah Walker's will as the daughter of William Vanleer of Maryland.
9. Elizabeth Van Leer. (5) Born 2/20/1765. Died 10/9/1827. Buried at Trinity Episcopal Church, Swedesboro, Delaware. Married James Clark 10/28/1784. James was born 11/30/1760 and died 8/12/1833. 5 children.
10. James Van Leer Clark. (1) Born 12/28/1787. Died 4/28/1822.
10. John Clark. (2) Born 10/18/1790.
10. Joseph Van Leer Clark. (3) Born 1/6/1793. Died 8/24/1829. Married Meribah Kirby in 1817.
11. John Kirby Clark. (1) Born 1818. Married Rebecca Thompson.
12. Louisa Clark. (1) Married Augustus Garrison.
13. Rebecca Elizabeth Garrison. (1) First married George Gill; second, Aaron Black.
12. Anna Clark. (2) Married Al Talman.
13. Louis Talman. (1)
13. Katherine Talman. (2)
13. Sidney Talman. (3)
13. William Talman. (4) Married Elizabeth Ridgway.
14. Dorothy Talman. (1) Married Stanley Kreps.
12. Thompson Clark. (3). Unmarried.
11. Edward Clark. (2) Born 1820. Married Jane Vanneman about 1843.
12. Hannah Clark. (1) Married, first, Parmalee Olmstead.
13. Mabel Olmsted. Married Mr. Holbridge.
13. Maud Olmstead. Unmarried.
9. Rebecca Van Leer. (6)
9. Zebiah Van Leer. (7)
9. George Van Leer. (8)
9. Keziah Van Leer. (9) married Samuel Black
9. Branson Van Leer. (10)
9. Tamzen Van Leer. (11)