McAteer Family and Affiliates: Sligh, Ray Parker
Eula Nella McAteer – wife of Anthony Wayne VanLeer
This is the family history of Eula Nella McAteer, born 1894 in Red River County, Texas to William Luther "W.L." McAteer and Nella Francis Ray.

Eula married Anthony Wayne VanLeer on May 11, 1913    (see photo to right made c 1915) becoming a part of the VanLeer history.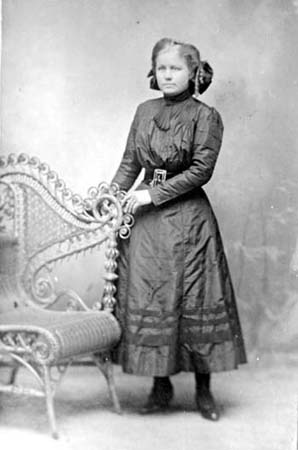 Eula's family history includes all 4 white Southern ethic groups that inter-married in the 18th and 19th centuries, creating a unique "melting pot" American.
On her father's side, she is
Scotch-Irish (McAteer)
German (Sligh, her paternal grandmother).
On her mother's side, she is
Highland Scot/English (Ray)
English/German (Parker, her maternal grandmother).
All four family groups migrated to Texas through the Deep South. This history will trace the movements of each group from the East Coast (NC and SC) before the American Revolution to Texas after the Civil War.
All her ancestors were landowners (but NOT "plantation" owners). Her McAteer grandfather was a slave "overseer" in Florida in the 1850 census. Several ancestors owned a few slaves. They made severe sacrifices during the Civil War and suffered humiliation during Reconstruction.
As each of the four family stories show, Eula's ancestors came to America poor, seeking opportunity. They sacrificed and worked hard to get just barely into the middle class. Eula's parents–William Luther "W.L." McAteer and Nella Ray–were the first post-Civil War generation.

McATEER FAMILY HISTORY
Key aspects of the McAteer family history, intermingled with relevant European and American historical events, are presented as follows:
Scotland and Ireland
American Emigration and the Great Wagon Road
South Carolina Backcountry Before the Revolution
Character Traits of Scotch-Irish Backcountry Settlers
American Revolution in South Carolina
William McAteer, Generation #1
William McAteer, the Patriot, Generation #2
William A. McAteer, the Baptist, Generation #3
William "Billy" McAteer, Generation #4
McAteers During the Civil War
William Luther "W.L." McAteer, The Texas – Generation #5
Sligh Family History (W. L. McAteer's mother's family)
Ray Family History (W. L. McAteer's wife's parental line)
Parker Family History (W. L. McAteer's wife's maternal line)
Mother-to-Mother Social History
Information Sources
Scotland and Ireland
McAteer, McAtier, McTeer, McTyre (also the "Mac" version of these names) are all derivations from the Scottlish MacIntyre Clan.  "MacIntyre" means son of a carpenter.  The original Highland clan was subordinate to the Stewarts of Appin–possibly serving mainly as "forresters" or "carpenters."  From 1380 to 1810, the MacIntyre Clan held land in the Glencoe area.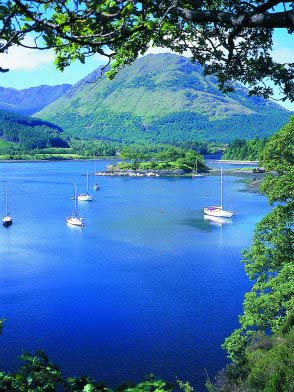 By the 17th Century, numerous members of the MacIntyre clan had moved into the Scottish Lowlands and were referred to by various name derivatives. Scots (possibly including McAteers) had also already settled the three northern-most counties in Ireland by 1609–Antrim, Down and Monaghan.
Between 1609 and 1641, more than 100,000 additional lowland Scots (from Edinburgh, Glasgow and the counties that border England) were "planted" in Northern Ireland by King James to displace the native Catholic Irish. Scots were planted in 5 additional Irish counties: Armagh, Tyrone, Donegal, Fermanagh, and Cravan.
Presbyterian records show Andrew McTyre as a Ruling Elder in Cardonagh, Donegal in 1707. A William Dunbar is listed as the Ruling Elder in Ramelton, Donegal in 1697 and in Donaghmore, Donegal in 1704. The Dunbars were an early marriage connection with the South Carolina McAteers.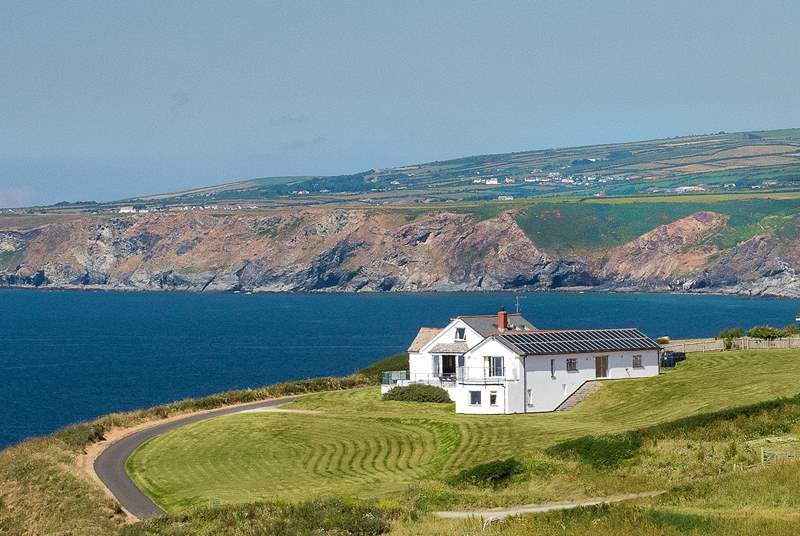 As allies to the English against the native Catholic Irish, the Presbyterian Scots had enjoyed generous lease terms until the 1700's. After the decisive Battle of the Boyne in 1690, the English landlords no longer needed the support of the Scots. When the rent terms expired in 1718, the English landlords refused to renew the leases to Scot tenants.
In addition, many laws discriminated against protestant "Dissenters" (any group other than the Church of England.)
Large numbers of the Scotch-Irish immigrated to America during the early 18th century. Since the coastal lands had already been settled, the Scotch-Irish settled the 1700 frontier–running north-to-south from Upstate New York through Western Pennsylvania, Kentucky, Tennessee, Western Carolinas, and Georgia,
American Emigration and the Great Wagon Road
Between 1719 and 1768, over a third of the protestant population of Ireland emigrated to British North America–predominantly through the port at Philadelphia.
Early in the 18th century, both German and Scotch-Irish emigrants to Pennsylvania began moving into the southern backcountry in search of cheaper land.
The McAteers were probably among the many Pennsylvania Scotch-Irish who followed the Great Wagon Road south, farmed a decade in Virginia or North Carolina, and then moved into South Carolina when the Indian uprising subsided. The following families–who are neighbors and relatives of the McAteers–are known to have been Scotch-Irish settlers who came to Newberry County, SC from Virginia (from Bolton's "Scotch Irish Pioneers in Ulster and America") McClure, Hannah, Caldwell, Vance (who first lived in Union County.) Their association with the McAteers is circumstantial evidence that McAteers lived in Virginia for a few years.
American Scotch-Irish homestead – Frontier Culture Museum, Staunton, Virginia
South Carolina Backcountry Before the Revolution
The Cherokees were decisively defeated in 1761–but when troops borrowed from North Carolina withdraw, there was no protection against WHITE lawlessness that plagued the background for 4-5 more years. What few thieves that were apprehended were constantly set free again by bribing authorities.
During the spring of 1767, back settlers (mainly the Presbyterian Irish) began to strike back by forming "regulator" groups. By the fall, defensive actions switched to aggression. They burned the houses of reputed "Harbourers of Horse Thieves." There were frequent riots and even threats to bring riots to Charleston unless their grievances were addressed.
When Charleston authorities arrested "Regulators," back settler discontent further worsened. Finally, in 1770-71 a large number of regulators were pardoned. Then in 1772, at last a Circuit Court was formed.
The McAteers and related families are first mentioned in the South Carolina backcountry in the late 1760's–evidently coming after the Cherokees were defeated but during the "Regulator" movement.
Character Traits of Scotch-Irish Backcountry Settlers
Charles Woodmason, a Church of England clergyman, kept a very detailed diary which is now printed under the title "The Carolina Backcountry on the Eve of the Revolution." Keeping in mind that Rev. Woodmason is an extremely prejudiced and negative person–his observations of the early South Carolina settlers are still revealing:
"The horrid Vice of Swearing has long been a reproach to the Back inhabitants, and just justly–for few Countries on Earth can equal these Parts as to this grievous Sin."

The inhabitants were all scantily dressed and always barefoot.

Rev. Woodmason carried his own dishes since the back settlers placed no value on cleanliness or, what he considered, "civilized health habits."

Drunkenness and common-law marriages were commonplace.

"There is not a Cabbin but has 10 to 12 Young Children in it." "Boys marry at 18; girls, 14." "The children and grandchildren are of one Size; the mother looking as young as the Daughter."
But it was the Irish Presbyterian's practical jokes–sometimes crossing the line into illegality–that most irritated Rev. Woodmason:
During one service, they set 57 dogs to fighting so that he had to discontinue the service. He considered getting a warrant–but knew that all the Constables were Presbyterians. And then even if the warrant were served, the Jailers were also Presbyterian and would arrange an "escape."

Once when he was ill, the Irish Presbyterians stole his "Gown" (vestments) and then visited a sick woman and crawled into bed with her.

During another service, they let his horse loose. Then, they took the "lost" horse to the next town's Magistrate who permitted the "finder" to use the horse until the owner was found. The horse was over-worked for a month until he managed to locate the horse and claim it.
Rev. Woodmason summarized his feelings of Irish Presbyterians as:
"Ignorant, mean, worthless, beggarly..the scum of the Earth and Refuse of Mankind."
South Carolina backcountryman as depicted in "The Patriot"
This character was ruthless with outsiders – but enormously loyal to friends and family.
More charitable historians–usually descendants of the Scotch-Irish–have turned Rev. Woodmason's vices into virtues:
Scotch-Irish were strong and healthy as attested to by the large families. (So why wash the dishes?)

Scotch-Irish were extremely practical. (It was too hot in South Carolina to dress like decorous Englishmen.)

Presbyterians were religiously opposed to ornamentation and ceremony. (In hard times, a Christian "wedding" would be an unnecessary luxury.)

Calvinists–which included the Scotch-Irish Presbyterians–invented the Work Ethic. "Wasting" time was a "sin." But the "work" had to to productive and useful. ("Dusting" would not qualify as productive work.)

The Scotch-Irish had a high rate of literacy and placed a high value on education. (While literacy dropped during the first 1-2 generations in the backwoods–where literacy was less "practical," the Scotch-Irish were very active in establishing public education after the Revolution.)

The Scotch-Irish were politically active. Two basis American tenets stem from Scotch-Irish demands: (1) separation of church and state and (2) governmental checks-and-balances similar to the Presbyterian church structure.

Individualistic and aggressive–the Scotch-Irish led the way in defeating the Indians and settling the American frontier–from Western Pennsylvania/Virginia/Carolinas all the way to the Pacific Ocean.

The Scotch-Irish were admired for their lively sense of humor. In fact, American movies still do slapstick better than drawing-room banter.
According to historians, the Scotch-Irish was the predominant cultural pattern in the rural south as other groups assimilated into the Scotch-Irish group. The Southern language itself attests to the strong Scotch-Irish influence:
You-all
"Mad" being "angry"
Bamboozle
Pronouncing an ending "a" as "er." Early census takers spelled Eula's name phonetically as "Euler."
A carefully analysis of the "red" states and "blue" states would, I suspect, indicate that the "red" states are inhabited by descendants of the individualistic and aggressive Scotch-Irish.
Calling the cows in the South Carolina backwoods as taught as a child by my grandmother, Eula McAteer.  You pat your stomach and yell "Sue Cow."  Research reveals that this comes from the Scottish practice of calling cows in at milking time by yelling "sucan" which means "to suck."  (The stomach patting may have been an idiosyncrasy of my grandmother rather than Scotch-Irish tradition.)
The American Revolution in the South Carolina Backcountry
Like the preceding Cherokee Wars, banditry and regulator rioting–the American Revolution was personal and brutal on the frontier.  Photo below is from "The Patriot," a Mel Gibson film that graphically depicts the brutality of the American Revolution in South Carolina.  In this scene, the British burn a church with townspeople trapped inside.
British Major Cunningham's troops regularly entered solitary farm houses–killing the head of the house, freely plundering and burning frontier homes.
At the beginning of the Revolution, the back settlers had little enthusiasm. In fact, there were many grievances against the Charleston authorities who were leading the American War effort. Major Cunningham's tactics, however, quickly turned Regulators into Patriots. Like the Regulators, the backcountry Patriots were often unofficial, unorthodox and savage.
During the American Revolution the McAteers lived between the Broad and Saluda Rivers in the Piedmont Region where the war was personal and brutal. Thirty Revolutionary battles were fought within the borders of the 96th District and another 7 on Cherokee land which later became Up Country counties. According to Simms in "History of South Carolina," the 96th District alone "had more than 1400 orphans and widows."
In the "History of Newberry County, SC" Historical and Genealogical Annals," Summers lists known patriots.  It seems to include every adult male in the county–including William McTeer.
William McAteer, the South Carolina Backcountryman – Generation #1
It is likely that the first American McAteer landed in Philadelphia between 1720-1750, lived in Virginia for a few years or perhaps a generation, and then traveled to SC with a group of settlers that would have included several other Scotch-Irish families.  (While some earlier individuals anmed "MacTeer," "McTyre," and "McTeer" have been located in historical records in South Carolina, Virginia, and Pennsylvania, there does not appear to be any direct link to the William McAteer who settled in the South Carolina backcountry in the mid 1700's.)
It was not until 1767 that the SC backcountry was even reasonably safe for family settlements. 1767 is also the first date we find mention of the McAteer family in Newberry County, SC (which was later divided into Newberry and Lauren Counties).
"Survey for William McTeer pursuant to percept dated 7 Apr. 1767: 350 acres in Berkeley County on a branch of Bush Creek called Palmetto Branch. Bounded W by Wm. Hilbur: SW by Thomas Shaw; S by Valentine Cloudy. Survey certified 12 May 1767. Certified by order of council 7 Aug. 1770 for Michael Dormal. John Caldwell, D.S." – From "Laurens and Newberry Counties, SC: Saluda and Little River Settlements 1749-1775" by Jesse H. Motes III.
McTeer seems to have had the land surveyed but never took possession. If this was a headright grant, McTeer's family would have included himself (100 acres), a wife (50 acres) and 5 children (200 acres). He was probably born about 1730, and one of the children could be WILLIAM MCATEER, THE PATRIOT. A granddaughter is named "Mary Dunbar McAteer," indicating that his wife's maiden name may have been "Dunbar."
In 1772, William McAteer purchased 100 acres on the fork of Carsons Creek from Charles Harvey, for 200 pounds SC money.  This land is now on the western edge of Lauren County.
William McAteer, the Patriot – Generation #2
William McAteer, the Patriot, would have been born about 1750. 
In 1772, a William McAteer purchased 100 acres for 200 pounds. This was probably, WILLIAM MCATEER, THE PATRIOT.
"Chain of title of CHARLES HARVEY; Deed 23 June 1772: Charles Harvey of Craven County, carpenter, to WILLIAM MACATEER of same, for 200 pounds SC money. 100 acres being part of 340 acres granted to sd. Charles Harvey 18 May 1771." – From "Laurens and Newbury Counties, SC: Saluda and Little River Settlements 1749-1775" by Jesse H. Motes III.
This William McAteer married Francis Griffin, who was the daughter of James and Francis Griffin from Culpepper, VA. James was born 1731 and died in 1781. Although Griffin is a common Quaker name in Pennsylvania and Virginia, the Newberry Griffins were known to be Baptists. Since the Griffins first appear in the "Quaker" settlement, it is possible they were Quakers in Virginia and converted to the Baptist faith after moving to South Carolina.
At least 4 Griffin brothers and/or cousins–Anthony, Richard, William, and James–came to Newberry County about 1768. Each had a large number of grown sons–all with similar names. All of the Griffins fought in the American Revolution.
Known children of James and Francis Griffin of Culpepper, VA include:
Francis Griffin, who married William McAteer.

Charles Griffin (b. 6/23/1763 in VA and died 8/9/1820). He was one of the executors of William McAteer's estate in 1799. He was wounded just above the left hip joint in the Battle of Hay's Station where he was captured by the British–but later escaped. He was appointed a Magistrate in 1798. In his later years, Charles Griffin was a large landowner in Newberry County. His son, General John King Griffin was a member of the United States Congress and a Deacon at the Bush River Baptist Church; he died in 1841.

James Griffin, Jr., who administered his sister Francis McAteer's estate in 1803.

John Griffin, another large landowner in Newberry County, was Captain in the militia under Col. McCreery. He was born in 1750. His daughter, Sarah, also married a McTeer.

Mary Griffin who married a Leavell.

William Griffin. He later lived in Edgefield County, SC and Georgia. He returned to Culpepper County, VA in old age where he lived on his pension as a veteran of the American Revolution.

Nancy Griffin, who married a Sims.
Children of William McAteer, the Patriot, and Frances Griffin
Wiliam McAteer died in 1799. His wife, Frances, died in 1803. From the 2 wills, 5 daughters have been identified.
The 5 daughters were:
Jean McAteer, who married a McClure. Her son, William McAteer McClure is mentioned in the Patriot's will in 1799; however she is not mentioned in Francis McAteer's will in 1803. She may have died between 1799 and 1803. It is also possible that she is William McAteer's child from an earlier marriage.

Mary Dunbar McAteer, born in 1775. She married Nathaniel Vance. A son–William McAteer Vance–is mentioned in the Patriot's will. A second son–Samuel Vance–must have been born between 1799 and 1803 and is mentioned in her mother's will. There are numerous "Vances" in Union and Newberry County; every generation has several "Nathaniels" and "Samuels." The Patriot Nathaniel Vance was probably Mary's father-in-law rather than her husband. Nathaniel Vance was named the guardian of the minor children of the Patriot in his 1799 will. it is unclear if this refers to the older or younger "Nathaniel Vance."

Margaret McAteer, born about 1788. She married an Olton.

Elizabeth McAteer, born between 1791-1800. She married William Speer.

Francis McAteer, also born between 1791-1800. She married William's brother, John Speer. They moved to Shelby, AL and then to Wayne, TN.
There also seems to have been a son–William A. McAteer (the line followed by this website)— but he was not mentioned in either will. The 1790 census for William McAteer (the Patriot) does include a male under 16 and William A. McAteer was born in 1783. By 1800, the Patriot has died. The census includes "Widow of William McTeer." William A. McAteer would have been 17 but he included with this household. The widow's household includes:
1 female over 45 Francis, the widow
1 male 26-45 Possibly son-in-law Nathaniel Vance
1 female 16-25 Possibly Mary Dunbar Vance
1 male <10 Possibly William McAteer Vance
1 female 10-16 Margaret
2 females <10 Elizabeth and Francis
1 slave
Either William A. McAteer has left home or he is actually a nephew or cousin and living in another household.
William A. McAteer, the Baptist – Generation #3
This is the first McAteer generation of this family line that is fully documented.  While it is clear from circumstantial evidence that William A. McAteer is closely related to William McAteer, the SC backcountry man, and William McAteer, the Patriot, the SPECIFIC relationship can not documented.
There is contradictory information regarding where he was born. In the 1870 Tippah County, MS census, his daughter Nancy says both parents were born in Ireland but his son, Samuel, says both parents were born in South Carolina. South Carolina is more likely. The McAteers appear to have been a part of the large pre-Revolution Scotch-Irish settlement.
Most of what we know of William A. McAteer comes from his estate records:
Date of Death: Oct. 16, 1829
Appraised Value: $676.63 (Value in 1995 – estimated $15,000)
Wife: Mary. She signed with an "x."
Witness: Frederick Whitmire, son-in-law
Children: 9 children living in 1829. The 3 youngest died before 1845.
Guardian of Minor Children: Nathaniel C. Vance. (This is probably the husband of his sister who was also guardian of the younger siblings.) Mr. Vance was illiterate.
William A. McAteer's tombstone in the old Lower Duncan Creek Baptist Church Cemetery states that he died on October 16, 1829 at age 46–making him born in 1783.
The old Duncan Creek Baptist church cemetery is now abandoned. It is a few miles southwest of Whitmire, SC. From Whitmire, go 1 mile south on Highway 66, crossing the bridge at Duncan Creek. Just BEFORE a "Y" in the road where Old Highway veers to the right…turn right onto a narrow 1-lane dirt road. Drive .4 miles; the road dead ends at the cemetery.
Most of the tombstones were overgrown with weeds. A written inventory of graves, however, is available at the Laurens County Library. The graveyard includes William A. McAteer and 4 of his children.
William A. McAteer's wife, Mary, was born 4/28/1786 and died 10/27/1849. She may also be buried in this cemetery but she is not listed in the record books.
Ten children are documented in "Descendants of William A. McAteer" compiled by Sallie Harrison and Ethel Cole:
Elizabeth McAteer.  She was born in 1806.  Married Frederick Whitmire.  They moved to Florida in 1851.
Samuel McAteer. He was born in 1809.  Married, first Sarah Nabors and had sons William Benjamin and James S. McAteer.  Married, second, Martha Nabors.  He moved to Mississippi by 1868 and went on to Texas in 1872.
Nancy McAteer.  Born 1813.  Married John Benjamin Stewart.  They were in Mississippi by 1851 and came to Texas in 1872.
Mary "Polly" McAteer.  Born 1816.  She married Elisha Hipp.  Like the Stewarts, they were in Mississippi by 1851 and came to Texas in 1872.
Sarah "Sally" McAteer.  Born 1817.  She married, first, James Simpson, and second, John McCord.  They were in Mississippi by 1865 and came on the Texas in 1872.
William "Billy" McAteer.  Line followed by this website.  Billy married Nancy Caroline Sligh. 
John McAteer.  Born 1820.  Died 1842 in Newberry Co., SC.
Benjamin McAteer.  Born 1821. Died 1829 in Newberry Co., SC.
Margaret McAteer.  Born 1823. Died 1837 in Newberry Co., SC.
Rebecca McAteer.  Born 1825. Died in 1832 in Newberry Co., SC.
Billy McAteer and Nancy Caroline Sligh – Generation #4
The 4th American William "Billy" McAteer was born in 1819.
He is listed in the Marion County, Florida, 4th District, census as an overseer in the household of Stephen Bryan. Shortly afterwards, several other family members and Newberry County pilgrims also settle in the Florida panhandle. Those identified include Billy's sister and brother-in-law Elizabeth and Frederick Whitmire and John Sligh, who became his father-in-law.
The 1850's were a period of rapid growth and prosperity in the Deep South. Fertile Indian land in Florida, Georgia, Mississippi, Alabama and Louisiana had been cleared for white settlement. Cotton was king. Billy McAteer's prospects looked bright.
William McAteer's ante-bellum activities can be traced with legal documents–all of which William McAteer was able to sign, making this the first American McAteer generation proven to be literate:
1855. U.S. Government granted William McAteer 79 acres in Marion County, Florida.
1855. He bought 39 acres from his brother-in-law Frederick Whitmire.
1859. He sold 320 acres.
Billy McAteer married Nancy "Caroline" Sligh in 1851 in Marion County, Florida. He was 32; Caroline, only 15. The Slighs were of German descent and moved into the South Carolina background a century earlier. [Go to Sligh Family History.]
The 1860 Marion County, Florida census lists William McAteer in the Slave Schedule as owning one female slave, age 23. He and Nancy have 4 young children by 1860. It appears that the slave is helping Nancy and that William is doing his own farm work.
The 1860 census offers a picture of the status of various family members on the eve of the Civil War.
Billy's brother-in-law and sister, Frederick and Elizabeth Whitmire, were also in Marion County, Florida. Frederick owned a small piece of land (valued at $700) and is farming with his 24-year-old son, George. There were no slaves.

There were six young family members (all in their 20's) (all born in South Carolina) who were employed as "overseers" in Marion County, Florida. Some were listed with the households of their wealthy plantation owners; others seem to be living in rooming houses nearby. The overseer group includes:

James McAteer, 22, son of Samuel McAteer. He is later listed in a Confederate unit from Florida.
W. B. McAteer, 25, son of Samuel McAteer. Also serves from Florida.
W. M. Whitmire, 25, unclear relationship.
I. T. Stewart, 31, unclear relationship.
James Stewart, 34, unclear relationship.
Samuel P. Sligh, 28, unclear relationship.

Billy's brother-in-law and sister, John and Nancy Stewart, were in Tippah County, Mississippi. They were farmers; no slaves are listed.

Billy's father-in-law, John Sligh, isn't listed in the 1860 census. His brother, J. N. Sligh, however, is listed in the 1860 Georgia slave schedule as owning 8 slaves in Paulding County, Georgia.
Billy and Caroline's 5 children were:
John David McAteer (born 9/22/1854 in Florida)
Thomas Jefferson McAteer (born 4/25/1856 in Florida)
Mary Jane McAteer (born 1858 in Florida)
William Luther McAteer (born 5/1/1860 in Florida) This is line followed by website.
Robert L. McAteer (born during the Civil War, probably in Georgia).
McAteers During the Civil War
When Civil War broke out, the McAteer family was scattered across the south:
Billy's sisters Nancy Stewart and Mary Hipp were in Tippah County, Mississippi. Tippah is best known as the Home of William Faulkner. It was inhabited mainly by small farmers who grew their own provisions and tended large herds of cattle that foraged the hillsides unfenced. The soil wasn't fertile enough to support cotton plantations.

The family group that moved to Mississippi went by wagon train. The eleven families who came from South Carolina were all members of the Lower Duncan Creek Baptist Church–a "primitive" Baptist group. They formed the nucleus for a new congregation in Tippah County, Mississippi-Pleasant Hill Baptist Church that was established in 1872.

His brother Samuel and sister Sarah Simpson were still in Lauren County, SC.

Sister Elizabeth Whitmire was in Marion County, Florida.

His father-in-law John Sligh moved to Macon County, Georgia in 1860.

Billy seems to have lived in both Macon County, Georgia and Marion County, Florida during this period.
McAteer Casualties of War
"The Descendants of William A. McAteer" mentions 7 close relatives who died serving the "Lost Cause." There were very like more.
1) Billy's sister Nancy Stewart lost a husband and a son. See photo below.

Nancy McAteer Stewart with husband John Stewart, proudly posing with his rifle. Both John Stewart and his son, Robert Benjamin Stewart, died during the Civil War. Robert died in 1864 in a Union prison in Rock Island, Illinois.
2) Billy's brother Samuel lost a son, Joseph McAteer and a son-in-law, Thomas Todd.
3) Billy's sister Mary Hipp lost 2 sons: James F. Hipp died in Chattanooga in 1862 and her son Fred F. Hipp died of rheumatism in a camp near Shelby, Tennessee.
4) Billy's sister Elizabeth Whitmire had no living descendants in 1881. No information is available as to the cause of death of her draft-age sons.
5) Billy's brother-in-law, John Sligh, was killed in Virginia.
Billy's Service
According to oral family history, Billy McAteer fought in the war for the Confederacy. Billy would have been 45 in 1964, which was within draft age during the latter years of the war.
The only record located in either Florida or Georgia that may refer to this "William McAteer" is a company muster roll from the 3rd Georgia Reserves, Company D in Macon County for a Private W. McAteer and a Private J.T. McAteer.
The infamous Andersonville Prison was located in Macon County. Although not on the route to the planned "march to the sea," General Sherman authorized a small cavalry unit to make an effort to free the prisoners in April 1864. Local reserves were called up to defend this attack.
The company muster roll shows W. McAteer and J.T. McAteer enlisted on April 20, 1864 but were absent without leave for the entire period. The relationship of J.T. McAteer has not been established. War-time service has been identified for all his brother Samuel's sons. It is likely that the "J.T. McAteer" refers to William's oldest son, John David–who was only 10 years old. The only men available for a local miliita unit late in the war would be the very old and very young. Certainly this would be a good reason for going AWOL.
Company muster roll from the 3rd Georgia Reserves, Company D in Macon County, Georgia, 1864
Billy McAteer also signed legal documents in Florida during the 1860's–so he must have been in Florida at least part of the time:
1862. William McAteer purchased 240 acres in Marion County, FL.
1866. He sold those 240 acres.
1866. He married Jane Scott.
After the War
Billy McAteer and his new wife–Jane Scott–moved to Macon County, Georgia about 1868. Billy's children were probably already in Georgia, living with the Slighs. The children were still scattered among relatives when the Macon County, Georgia census was taken in 1870:
Older children, John (16) and Mary J. (12) were with the Sligh grandparents.
William "W.L." (10) was living with Aunt Jane Sligh Hogg and husband, John.
The youngest child, Robert, is not listed in the census. He may have been living with his father and step-mother–who are also missing from the 1870 census.
By 1872, Billy McAteer was living in Tippah County, Mississippi with his five children. It is unknown if his second wife came with him to Mississippi.
A Florida divorce was granted in 1873 to William McAteer and second wife, Jane. "Uncle Billy," however was mentioned in an 1874 letter, indicating he was still living in Tippah, MS. Of the 3 children that remained in Mississippi, two (John David and Mary Jane) had died by 1877.
Billy McAteer returned to Florida in 1877 with his youngest son, Robert. The rest of Billy McAteer's life was spent in Florida where he married for a third time in 1877 to Nancy Coleman. Nancy sold their land as a "widow" in 1884. This Nancy must have been very young. She was still living in the 1940's when information for "Descendants of William A. McAteer" was assembled.
Billy's descendants can be found in Florida (Robert L.'s family), Mississippi (John David's family) and Texas (descendants of Thomas and W. L.).
William Luther "W.L." McAteer, the Texas – Generation #5
W. L. McAteer was a complex man–hard-working and intelligent.  He had a capacity for extraordinary compassion–but there was a harsher side, too.
He taught his grandson, Anthony Wayne "A.W." Van Leer to read when everyone else had given up hope. He taught his granddaughter Louise York to count to ten in Choctaw. He took pre-schooler granddaughter Mabel Doris Van Leer to the school Christmas tree, put some presents on the tree for her and held her hand.
On another occasion, he hired a destitute couple found sleeping in the cottonseed bin during the depression. W.L. discouraged visits on Saturday so they could have a day off.
But on another occasion, he severely beat a horse when he balked in a creek bed as a storm was threatening.
Most of all, he is remembered by his grandchildren for his "nice chuckle" and strong sense of humor.
W.L. was not known to be religious. The discovery that he was baptized into the Baptist Church as a young man surprised the entire family. He was, however, a very active Mason. The elaborate Masonic funeral at his death in 1933 is still remembered by grandchildren now (1996) in their 80's. (Photo to left taken about 1930.)
W. L. McAteer's death was described by his granddaughter Cindy Woelke (daughter of W.L.'s son Robert) in a letter dated May 6, 1996.
"David was with his Dad, W.L., in the field on November 10, 1933. It was a Friday afternoon between 3-4. Mr. McAteer was walking in front of David when he slowly, gently collapsed on the ground and rolled onto his side. He was dead when he hit the ground–an apparent heart attack. David was 22. He had to take over the farming operation that day."
W. L. McAteer's Childhood
W. L. McAteer was born i n1860 in Marion County, Florida. He is believed to have been in Macon County, Georgia during the Civil War.
According to oral family history, W. L. was alone with his black "Mammy" in Georgia when the Yankee soldiers came. She hid him under a big pillow (or, in some versions, in the cellar).
Most of W.L.'s childhood and schooling would have occurred in Georgia.
About 1872, his father moved the family to Tippah County, Mississippi. All of the McAteer siblings were then living in Tippah which served as a staging ground to emigrate to Texas.
It was also in Tippah where Billy's grown children were baptized at the Pleasant Hill Baptist Church
(below). These late conversion dates may mean that Billy's children had been brought up in their mother's faith–Lutheranism. Church records give November 1872 as the date many members of the McAteer clan were "dismissed." This would be the date the wagon train left for Texas.
W. L. was only 12 in 1872 when a large wagon-train of relations and friends left Tippah County for Lee County, Texas. The relatives included:
* Uncle Samuel McAteer, his widowed daughter's family–the Todds, and a married daughter, Sarah Caroline McCord.
* Aunt Nancy McAteer Stewart Miller with grandson John Duncan Stewart–who married the sister of W. L.'s first wife–Martha Ann Hughes–in 1877. John Duncan Stewart's father was Robert Benjamin Stewart who died in a Union prison camp in Illinois.
Hardships endured by the McAteer clan in the 1870's are well illustrated by this drawing of the first John Duncan Stewart home in Lee County, Texas about 1878.
* Aunt Mary McAteer and husband Mathew Hipp with married sons and daughter Mary Susan Miller and her husband Mathew Miller.
* Aunt Sarah McAteer Simpson and her grown sons.
* Brother Thomas Jefferson McAteer, 16 years old.
* Sister Mary Jane Simpson (recently married to her first cousin Mathew Jones Simpson, son of Aunt Sarah and Uncle James Simpson.) Mary Jane, however, was unhappy in Texas; she and her family went back to Mississippi in a few years. After her death in 1877, Mathew Jones Simpson returned to Texas with the children.
A letter in 1874 from Cousin Pauline (Nancy McAteer Stewart's daughter) to kin in Texas reveals the state of affairs in Texas in 1874 and the considerable desperation that must have been required for the family to make this move:
"…He (Cousin Elbert Simspon–son of Aunt Sarah, who has just returned to Mississippi from Texas) says there is no society there….He says also that one man don't care no more for shooting another down than John would an old dog….I heard that he did say that it was nothing strange to see one nigger and 2 or 3 white men a hanging to one tree.
"…John (her brother), if you won't come back here you must stay close to Uncle Mathew (Mary's husband Mathew Hipp)…so that if you get sick they can tend to you."
The entire clan lived in Lee County, Texas for several years. Key dates:
1876 W.L.'s brother, Tom, married Eudora Emma Meeks.
1877 W.L. was baptized at Knobbs Spring Baptist Church.
1879 W.L. married Susie Helen Hughes.
W. L. McAteer – c. 1880
First Marriage
After their marriage, W. L. and Susie moved to Red River County where two children were born:
1880 Mary Delaney McAteer
1881 Charles McAteer
Right photo: Mary McAteer and her mother Susie Helen Hughes McAteer, c. 1898. W. L. and Susie divorced in the early 1880's; the children stayed with W.L. Mary lived with her uncle Tom McAteer in Hereford after Tom's wife died and cared for his children. She apparently renewed her relationship with her mother at the time when this photo was taken.
Left photo: Charles McAteer. He died in 1887 of malaria caused by the unhealthful climate near the Red River.
Second Marriage – Nella Francis Ray McAteer
W. L. McAteer remarried in 1884 to Nella Francis Ray, the daughter of Love Calhoun Ray [View Ray Family History] and Emma Parker [View Parker Family History]. Photo below taken about 1930.
Nella Francis Ray married W. L. McAteer at age 17, immediately becoming step-mother to two children, ages 3 and 4. She bore 12 children of her own.
By the time she was 25, she'd had 4 children, mothered 6, and buried 3. The three deaths stayed vivid memories throughout her life. Every descendant contacted remembered being told of these tragedies.
W.L.'s son Charles died in 1887 of malaria; less than a year later, their infant–Luther–rolled into the fireplace and burned to death.
Nella was skilled in all the domestic arts from crochet to cow milking. A true frontier help-mate, she was also capabale of chopping down trees and defending her family with a .44!
Nella–like other members of the Ray family–was a Methodist. She particularly liked the lively camp meetings.
There were 12 children born to this marriage:
Samuel Houston McAteer. 1886-1958 [View photo]
Luther William McAteer. 1887-1888
Jessie May McAteer. 1889-1892
Lillie Frances McAteer. 1892-1967. Married George W. Baker. Lived in CA.
Eula Nella McAteer. 1894-1973. Married Anthony Wayne Van Leer.
Emma Eudora McAteer. 1896-1993. Married Acie Frank York. Lived in Hobbs, NM.
Verda Ella McAteer. 1898-1938. Married Sam Harkley. Died in El Paso, TX.
Robert Jefferson McAteer. 1900-1987
Frank Washington McAteer. 1902-1990
Forest Monroe McAteer. 1905-1998
Bert Ray McAteer. 1907-1988
David Crockett McAteer. 1911-1992
McAteer girls c. 1909. Left-to-right: Verda, Eula, Lillie, Emma.
McAteer boys at mother's funeral in 1955. Left-to-right: Robert, Frank, Forest, Bert, and David. Frank, Forest and Bert lived in California and worked in the oil business. Robert and David stayed in the ranching business. David lived in Ft. Stockton, TX. Robert remained in Dickens County, TX.
Childhood Remembrances of Eula McAteer Van Leer
In the 1960's, Eula tape recorded family stories for posterity. W. L. and Nella McAteer demonstrated "true grit" and extraordinary courage as they struggled to overcome the poverty and lawlessness of the post-Civil War South.
First Farm – On Red River
W. L. and Nella purchased their first farm of about 80 acres near the edge of the Red River. It was here that little Charlie died of malaria due to the unhealthy climate. Nella's son, Luther William, lived his six short months of life here.
One year the Red River overflowed and flooded their home. The children were taken to the bank in a boat. W. L., then, sailed the boat right through the house to try to save some of their belongings. Many were stored in the loft and were saved.
Wichita Falls – "Edge of Civilization"
In the early 1890's, the family lived for a short time in Wichita Falls. Eula remembered her mother telling of how frightened she was living on the edge of civilization. "lot of mean fellas in that part of the country those days." Nella was alone with the children in their covered wagon one day when two unsavory men came by on horseback. She put the children behind her and pointed the .44 pistol at the front of the wagon. The two men left them alone.
Back to Red River and "Civilization"
The family, then, returned to Red River County. But this time they were able to purchase a 1000-acre piece of land in a healthy location. The property included a lot of timberland as well as a patch of "good black land without timber" for cultivation. Since the farm didn't do well the first years, they paid for the farm by cutting down the trees on their farm and selling them as ties for the railroad. Nella helped W.L. saw down the trees.
Nell's half brother Ben Ray, age 19, was living with the McAteer family when the census was taken in 1900.
Dickens County – 1903
The family moved to Dickens County in 1903. They rode the train to Quannah and rode the rest of the way to Spur in a "mail hack." At this age, Eula suffered from motion sickness when the buggy was covered up. She recalled making this ride laying in the back of the wagon with the curtain up, vomiting out the back. "I'll tell you right now that was a hard trip on me!"
W. L.'s brother, Tom, was already living in Dickens County where he ran a Mercantile Store. W.L. was a partner in the store as well as a farmer. There were eight living children in the family in 1903. Sam, however, was already 17 and is believed to have been in the army during that time. Nella was unhappy in Dickens–particularly with the sandstorms.
The family (except for Mary who had moved to Hereford in Deaf Smith County to live with Tom McAteer who was a widower with small children) moved back–yet again! to Red River about two years later.
The trip back to Red River was made in a covered wagon. The 500-mile trip took about 3 weeks. On about the third day out, the horse pulling the wagon balked in the middle of a creek which had deep sand. It was nearly night and a storm was threatening.
The family walked to the creek bed. W. L. continued to whip the horse with a buggy whip until he wore out the whip and then started hitting him with the butt end. The horse finally moved. But he collapsed when they stopped to make camp and cut his leg badly on a wire fence.
The next day, they stopped at a farm house where a German couple lived who took them in until the storm ended in 5-6 days.
Eula remembered that she and her sisters had "a big time on that trip." At the German farm house, the children's room was above the parent's room. A hole had been cut in between for a stovepipe. The children tied their stockings together so that it looked like a snake and dropped it right above their parent's bed. (Photo to left – Eula and Verda, c. 1903).
Another panic during the wagon trip occurred when the family thought they had lost the baby, Robert. But he was finally discovered between the wagon wheel and wagon in the loop of the wagon sheet where he had rolled while asleep.
Red River, the Third Time
Eula and her sisters attended two different schools in Red River County between 1905 and 1910: a public 1-room school house in the town of English and a Catholic boarding school in Clarksville.
St. Joseph's Academy was recognized as one of the most prominent schools in northeast Texas between 1875 and 1919. Although there were only a few Catholic residents in Clarksville, the Academy attracted students of many faiths.
The teachers were nuns from Germany, Ireland, and France. Most were accomplished musicians and literati. While the academy was considered a "Mecca of elementary culture and art" by many, Eula found the discipline to be overly strict.
Public School
At the public school, many of the students were bigger than the teachers and there were frequent fist fights. A teacher's arm was badly cut in one incidence.
Eula recalled a confrontation that involved her brother, Sam. After 1 or 2 years in the army, Sam returned home and attended school for awhile. He and a friend had written the teacher's name on his back in chalk–"Fox." The teacher decided the boys needed to be shipped. He beat the friend badly; Sam stopped the beating with a baseball bat.
In the 1950's, Sam, Lillie and Eula visited the school friend in Red River county. He still felt that the "teacher would have killed me if Sam hadn't stopped it."
The farm community of English is located on a farm-to-market road about 10 miles east of Clarksville. From Clarksville, take State 114. English is on the left about .25 mile before State Highway 1699. Only 2 buildings remained in 1992. The English grocery store (above) and the Methodist Church (below.)
Dickens County – The Second Time
The family had a difficult time these years in Red River. It rained constantly and the crops were very poor. In addition, there were now 3 more mouths to feed.
In 1911, W. L., Nella and the 8 younger children made a permanent move to Dickens County. They lived on a quarter-of-section outside Dickens. Robert continued to farm this land until his mother died in 1955. The property was, then, sold with the proceeds being split among Mrs. McAteer's heirs.
Croton Breaks – Dickens County, Texas
This area is still sparsely settled – at the edge of "civilization."
THE SLIGH FAMILY – FROM GERMANY
Eula McAteer's parternal grandmother was Nancy Caroline Sligh, who was born in 1836 in SC.  The Sligh (Schleich) family has been traced back to Hans Ulric Schleich who came from Germany in 1752.
According to Dr. Hazelius in "The American Lutheran Church, the original German settlers in South Carolina were generally from the neighborhood of the Rhine, Baden and Wurtemburg–the "Palatinate." These Lutheran Palatines left their homeland due to religious persecution. To encourage Protestant emigration to the Carolinas, Britain offered generous grants of land–called the "King's bounty." As Protestant settlers, they were given head rights of 100 acres for the head of the family and 50 acres for each dependent. Quit rents were waived for 10 years.
The German settlers in the Carolinas built small German communities where they retained their distinctive culture and language well into the 19th Century.
The "Dutch Fork" in southeastern Newberry County, South Carolina was one such German community. While many of the men spoke English and interacted with English-speaking authorities–very few of the women spoke English before 1800. The following traits have been documented of early German settlers:
"Remarkable for their thrift." Although the farms were small, the settlers were quite prosperous. Each farmer stashed silver coin under his bed.
Honest and truthful.
Hospitable to neighbors, but very opposed to having daughters marry outside the community.
Very superstitious, believing in ghosts, witches, charms. The custom of hanging a horseshoe over the threshold for "good luck," is a German charm. Dutch Forkers practiced "using"–the ability to cure disease by cabalistic words and passing of the hand over the part of the body that was ailing. This could be the source for "faith healers," which are still a part of Southern culture.
HANS ULRIC SCHLEICH – AMERICAN GENERATION #1
Unless otherwise noted, information in this section was taken from "A History and Genealogy of Hans Ulric Schleich of Wiesloch, Germany and South Carolina." [See reference.] 
Hans Ulric Schleich was a member of the Lutheran Church in Wiesloch, County of Heidelberg, State of Baden, Germany. His birth is recorded there as March 26, 1705.
Children born in Germany to 4 different wives are listed below. The South Carolina immigrants who disembarked from the ship CUNLIFFE on September 19, 1752 are in bold-face.
1st wife: Anna Susan Alsweiler – Died 9/26/1731
8/24/1728 Daughter: Elizabeth (7/10/1729-1/1735)
Son: Isaac (7/12/1731 0 9/22/1731)
2nd wife: Catharina – Died 1/19/1745
Daughter: Eva Catharina (5/11/1734 – died in SC)
Daughter: Brigitta, mis-copied as "Creda" on early SC documents (3/18/1737- died in SC)
Son: Johanna Joerg (6/17/1741-4/1/1746)
Son: Conrad (1/12/1745 – died en route to America)
3rd wife: Anna Catharina – Died 7/22/1746
Daughter: Magdalena (7/17/1746 – 8/8/1746)
4th wife: Anna Barbara Senck
Son: Jacob – 8/8/1747 – 1797. Fought in Revolution, SC Militia under Col. Waters..
Daughter: Anna Margareta – 7/11/1749 – died in SC)
Daughter: Maria Brigitta (1/26/1752 – died en route to America)
He received a Bounty Grant dated Jan. 2, 1754 for 300 acres on Cat Tail branch of Cannons Creek in the Dutch Fork. Road maps still reference a town called "Slighs"–but there are no buildings there now. Slighs is on U.S. 76, 5 miles out of Prosperity.
Ulrich and his wife, Anna Barbara, had at least 3 more children in American–Phillip, Nicholas, and George. Our family is descended from Nicholas Sligh – Generation #2.
NICHOLAS SLIGH – AMERICAN GENERATION #2
Nicholas Sligh (1755-1791) married Catherine Cappleman. She was born 7/29/1759. After Nicholas's death, she remarried Peter Quattlebaum, Sr.
Children mentioned in Nicholas Sligh's will dated 9/27/1790 in Newberry, SC are:
Jacob J. Sligh – The line followed by this website.
Elizabeth Sligh. Married John Buzhardt, then Woolrod Wicker
Margaret Sligh
Isabelle Sligh
John Uvey Sligh.
JACOB J. SLIGH – AMERICAN GENERATION #3
Jacob was born about 1782 and died 4/3/1845. He married Mary Lagrone (9/22/1780-11/22/1849). (Two Lagrones are listed as serving in the SC Militia under Col. Waters–Jacob and John. One may be Mary's father.)
The couple is buried in the Sligh Family Cemetery in Newberry County, SC. Children named in John Jacob's will are:
John Nicholas Sligh. Married Nancy Griffith, daughter of David Griffith.
Mary Sligh. Married George Bobb.
John Sligh. Married Mary Griffith, another daughter of David Griffith. Line followed by website.
Catherine Sligh. Married Henry Thompson, Jr.
George Jacob Sligh. Married Mary Elizabeth Ruff.
Andrew J. Sligh.
Sarah Sligh. Married Francis Bobb.
JOHN S. SLIGH – AMERICAN GENERATION #4
John Sligh was born 1811 in SC. His wife was Mary Griffith (born 1814). She was the daughter of David Griffith. (A David Griffith also served in Col. Waters militia during the American Revolution. This could be Mary's grandfather.)
This couple must have moved out of the isolated "Dutch Fork" by 1829 when he was mentioned as a debtor in William A. McAteer's Lauren County will.
Several Lauren County, SC families moved to Marion County, FL in 1851, including
John S. Sligh and wife Mary Griffith
John Nicholas Sligh (brother to John S.) who married Mary Griffith's sister.
William McAteer, who married daughter of John S. Sligh.
Elizabeth (William McAteer's sister) and husband, Frederick Whitmire.
It was in Florida that John Sligh's daughter–Nancy Caroline–married William McAteer.  About 1860, both Florida Sligh families move to Georgia.  It appears that the William McAteers also lived in Georgia during the Civil War, although Billy returned to Florida after the war.
Children of John and Mary Sligh were:
Nancy Caroline Sligh. Born 1836, SC.  Married William McAteer in 1851.  Died about 1846.  This is line followed by website.
Jane H. Sligh. Born 1836. Married John C. Hogg, 1868 in Georgia
Elizabeth C. Sligh. Born 1839. Married David T. Maffett.
David J. Sligh. Born 1841. Killed in the Civil War. Buried in Virginia.
Martha C. Sligh. Born 1846. Married John C. Rodgers, 1863.
William J. Sligh.  Born 1848. Not mentioned in father's will in 1881.
Jacob J. Sligh. Born 1850. Not mentioned in father's will in 1881.
Lavinia S. Sligh.  Born 1853. Still unmarried in 1881.
John Sligh–grandfather to W. L. McAteer of Texas–died in 1881 in Macon County, Georgia.
POST CIVIL WAR NEWBERRY SLIGH
Members of the Sligh family continued to play promienent community roles throughout the 19th Century.  Lutheran pastors in Newberry County included J.A. Sligh (pastor 1865-1892 of St. Paul's) and W. K. Sligh (ordained 1892).  J.A. Sligh was also a member o the South Carolina Legislature in 1892.  Specific relationships to the John Sligh that moved to Florida and, then, Georgia, has not been established.
THE RAY FAMILY – FROM THE SCOTTISH HIGHLANDS
Eula McAteer Van Leer's maternal grandfather was Love Calhoun "L.C." Ray, who was born in 1842 in Chattahoochee County, GA.  His heritage has been traced back to the Scottish Highlands.
Highland Scots – Cape Fear, North Carolina
Between 1730 and 1770, a large number of Highland Scots settled in the Cape Fear region of North Carolina. Since the coastline was already settled, the Scottish settlements started about 80 miles up the Cape Fear River.
During this period, Scotland was undergoing basic economic and social changes. Landlords were shifting from farming to sheep grazing. The clan system was breaking up. Most Highlanders were living in extreme poverty.
The Crown offered each emigrating Scot 50 acres for each person who emigrated plus exemption from taxes for 10 years. By the time of the Revolution, 3 counties were predominantly made up of Highlanders–Bladen, Anson, and Cumberland. Scottish Gaelic continued as the principal language in this region well into the 19th Century.
Many of the Highlanders were loyal to Britain during the Revolution. No "Ray" patriots have been identified.
The MacRae Clan
"The name MacRae means "son of good luck," from which one cam assume that the early MacRae chiefs were successful in their various exploits. The founder from whom they take their name is not known at all, which supports the theory of the great antiquity of the clan.
…"The MacRaes are of Celto-Irish extraction. They were present at the Battle of Largs in 1263, fighting against the Norse invaders, and at an early date they settled in Kintail, and their chiefs became known as "of Kintail."
…"From the 14th to early 15th century the MacRaes became known as "MacKenzie's Shirt of Mail" from their fame as bodyguards to the MacKenzie chiefs.
…"The MacRaes were Chamberlains of Kintail, and around 1520 they became hereditary constables of the beautifully picturesque castle of Eilean-Donan. They were usually referred to as 'the wild MacRaes' on account of their warlike spirit, but they were also noted in the Highlands for their love of poetry and music.
…"The clan lost many men at the Battle of Auldearn in 1645, fighting in support of Montrose…
…"There is at present no MacRae chief, but Eilean-Donan Castle, a very beautiful and much-photographed castle in the western Highlands, of which the MacRaes were hereditary constables for centuries, is now in the possession of a MacRae."
— From "Scottish Highlanders," by Charles MacKinnon, Barnes & Noble, 1984
Eilean-Donan Castle – Highlands Scotland
More than other ethic groups, the Highlanders brought to America
a fierce devotion to self-sufficiency
a love of the outdoor "manly" life
a passion for protecting "honor"
a thirst for adventure.
DANIEL RAY AND MARGARET PHARIS – GENERATION #1
Although the names are misspelled, there is a listing in the Baptismal Records of Old Bluff Presbyterian Church that reads "Daniel Reay and his spouse Lady Faris had a son baptized named Fariss." The baptismal date of Sept. 5, 1799 is reasonable. Pharis Ray's obituary gives a birth date of Nov., 8, 1798.
Old Bluff Presbyterian Church – founded 1758
Wade, Cumberland County, NC
Other circumstantial evidence supports this baptismal record as evidence that Daniel Ray and Margaret Pharis are the parents of Pharis Ray:
We know from census records that Pharis Ray–Love Calhoun's father–lived in North Carolina between 1798-1818.

Pharis Ray's oldest son was named "Daniel." [From 1850 Georgia census.]

Pharis Ray's mother's maiden name was probably "Pharis." The only county in North Carolina with residents with the last name of "Pharis" in 1790 and again in 1810 is Cumberland. Margaret Pharis was probably the daughter of John and Sarah Pharis, who were living in Cumberland County, NC by 1763.

There is a second baptismal record in the Old Bluff Presbyterian files where the parents names are spelled correctly. A son, John Ray was baptized on 7/30/1797. His parents were Margaret Pharis and Daniel Ray.

Daniel Ray was a witness to the Administrator's Bond taken by Absolom Riley for the estate of John Pharis (Senior, who died in testate), 12 September 1808. Both Daniel and Absolom are believed to be sons-in-law of John.

Rays are documented residents of Cumberland County, NC back to 1761. There is a will for a Daniel Ray in 1761. The 1810 census included a Captain Daniel Ray.

"The Highland Scots of North Carolina, 1732-1776," by Duane Meyer, The University of North Carolina Press defined the "Rays" of Cumberland County as "probable highlanders" based on close association with documented Highlanders and the prevalence of common Highland Christian names–e.g. "Neil," "Duncan," "Archibald," "Malcolm." "Pharis," however, is a Lowland name.

"History of the Ray Family – 1745-1945," by Louis Duncan Ray documents 5 Ray brothers who participated in the Second Stuart Rebellion of 1745. Brothers Archibald, Duncan, Donald, Gilbert, and John were exiled to North American. Their families were left behind but most of them came over later.

Duncan Ray is known to have helped organized the Old Bluff Presbyterian Church in 1758 in Cumberland County where Pharis Ray was baptized in 1799. The Ray brothers later relocate to nearby Hoke County and are associated with the Long Street Presbyterian Church there. A Daniel and Margaret Ray are buried there. Some researchers believe they are the parents of Pharis Ray. If so, the tombstone records indicate that Daniel was born about 1763 in Jura, Argyllshire, Scotland; came to America in 1792; died 3/9/1826. Margaret was a native of Islay, Scotland and died 10/8/1849 at the age of 90. There is no hard evidence for this connection and "Pharis" (including alternate spellings) isn't a Highland name.

According to the "History of the Ray Family – 1745-1945," the 5 exiled brothers were the sons of John and Mary Ray and the grandsons of Archibald Ray (ca 1640-1710) of the Isle of Skye. Archibald was the 25th generation of descent from Gille Brude, A.D. 925, a Pilot pirate who attacked Viking ships. His headquarters was between the Isle of Islay and Jura.
PHARIS W. RAY (1798-1872) – GENERATION #2
An obituary in the "Georgia Enquirer" of Columbus on May 21, 1872 gives the key dates of Pharis Ray's life:
Born 11/8/1798 in North Carolina
Moved to Georgia in 1818
Married Maria Womley on 12/24/1824 in Baldwin County. [NOTE: The only Womley listed in the 1790 NC census (where Maria was born) was John Wombley in Chatham County. There were 2 males over 16; 2 males under 16; and 3 females.]
Lived near Columbus, GA (Chattahoochee County)
Moved to Ouachita Parish, LA in the fall of 1854
Died in Louisiana on 4/17/1872.
Other documents trace his movements within Georgia more precisely:
1820 – Putnum County. The Federal census lists 2 Rays: Neil Ray and Ferris W. Ray.
1827 – Putnum County. Henry County Land Records indicate that Pharis Ray of Putnam County sold land in 1827 and, the purchased land in 1828. These purchases seem to be for speculation. There is no evidence that he ever lived in Henry County.
1830 – Putnum County. Federal census includes:
Neil Ray. 40-50 and female 20-30. Unknown relationship.
Pharis Ray: 30-40
Wife: 20-30
1 male under 5
1 female under 5
1 female 5-10
James Ray. 50-60. Living alone.
1840 – Muskogee County. Federal Census lists Phares Ray.
1842 – Chattahoochee. Son L.C. Ray indicated in his Solder's Application for Pension in 1909 that he was born in Chattahoochee in 1842.
The Rays in Louisiana
Pharis Ray was the administrator of West Parker's estate in Ouachita Parish, LA in 1854–soon after relocating from Georgia. The timing makes it appear as if the Rays moved to Louisiana because of West Parker's death. Consequently, there may have been a prior relationship between the Rays and Parkers.
An article in the Columbus Enquirer states that Pharis Ray remarried 1/14/1838 to Mosley Culbreath in Muscogee Co., GA. "Molcey" is the wife's name in Pharis' probate when the estate is divided in 1874 in Ouachita Parish, LA. He owned 480 acres appraised at $1360. There were 10 surviving children in 1874 when the estate was settled. We know of at least one other son who was killed in the Civil War. This may have been "Daniel," who was listed in the 1850 Muskogee County, Georgia census as being born in 1829 – but he was not alive when his parents' estate was settled. He and his brother, Love Calhoun, served in the same unit. His death was mentioned in L.C.'s pension application.
Heirs included 10 children:
Jefferson W. Ray, who represented L.C. at the settlement. Born about 1847.
John M. Ray. Probably born about 1825.
W. D. Ray (born about 1832) who represented sisters Mary Ann Nellum and Sarah Francis Alderman (Both were probably born between 1825-1830.)
Serrena Nettles, a widow. A twin, born about 1841.
Amanda E. Mitcher, a widow. Born about 1835.
Arrener George with her husband J. H. George. A twin, born about 1841.
Margaret Johnson with her husband T. J. Johnson. Born about 1845
Love Calhoun Ray – Line followed by website. Born in 1842.
LOVE CALHOUN RAY (1842-1924)
Love Calhoun "L.C." Ray was born 9/26/1842 in Chattahoochee County, GA. He moved with his parents to Ouachita Parish, LA when he was 12. When he was 19-20 he joined the Confederate Army. He served in Company B, 4th Louisiana Infantry Battalion, Gibson's Brigade from March 1862 to the surrender in May 1865. His unit fought with the Army of Tennessee from Chickamauga to Nashville and in 1865 aided in the defense of Mobile. He surrendered in Meridian, Mississippi.
A few months after the end of the Civil War–Nov. 3, 1865, L.C. Ray married Emily Parker in Monroe, LA. He was 23; the bride was 17. L. C. Ray's father had been the administrator of West Parker's estate in 1854 and the guardian of his minor children.
Several Ray and Parker families moved to Red River County, TX in 1868. The 1870 Red River census includes the L. C. Ray family and a Parker family headed by Emily's widowed mother.
L. C. and Emily Parker Ray had 2 children:
Nella Francis Ray – Line followed by website.
Sammy Ray. Born 1869 in Texas. He died before 1880.
Emily Parker died before 1878. L. C. Ray remarried in December 1878 to Martha Abigail Orr. Their children were:
Set of twins born in 1879. They died as infants.
Myrthe Bell Ray. Born 11/10/1880. Died 7/5/1956 in Ft. Worth. She married Mr. Darter.
Ben Ray. Born 3/6/1881. Died in 1960.
Sula Pearl Ray. Born 8/28/1882. Died 9/7/1905.
Eunice M. Ray. Born 11/15/1888. Died 9/5/1959 in Wichita Falls, TX. Married a Mr. Flood then a Mr. Bolin.
Pharis Ray. Died 9/7/1972.
Maymie E. Ray. Born 9/5/1890. Died 11/26/1973 in Clayton, NM. Husband was George Dallas.
Martha Love Ray. Born 6/22/1893. Died 2/12/1977 in Oklahoma City. Husband was John Thomas McAmes.
Pat Daisy Ray. Born 4/6/1897. Died July 1986. Married Mr. Stokes.
In 1905, L. C. moved to Young County where he owned 80 acres jointly with his son, Pharis Ray. On 9/25/1909–at age 67, L. C. filed an application to be admitted to the Confederate Home for Men in Austin. The physician's affidavit states: "He is physically unable to do any kind of labor on account of blindness and is nearly deaf and cannot see to do anything in the way of work."
The family contacts given were: Mrs. W. L. McAteer, Spur and Phares Ray of Cherokee, San Saba County.
L. C.'s 2nd wife, Abigail, died 7/2/1922 in Bogata, TX. Love Calhoun Ray died on 6/11/1924 at 11:10 p.m. in the Confederate Home and is buried there. There was an obituary in the Austin paper on 6/13/1924.
Love Calhoun Ray's Character
Descendants of both of L.C.'s wives–Emily Parker and Martha Abigail Orr–have reported that L.C. was known to have physically abused both wives and, possibly, the children. His second wife and many adult children were living i 1909–but none were willing to care for the disabled Mr. Ray.
How big a part did the Civil Wary play in Mr. Ray's bitterness? As a young man, he saw defeat, death of his brother, humiliation. His entire adult life was spent at poverty's door.
THE PARKER FAMILY – FROM ENGLAND
Eula McAteer Van Leer's maternal grandmother was Emily Parker, who was born in 1848.
PARKER IMMIGRANTS FROM ENGLAND
According to "Carolina Crade" by Ramsey, the inter-related North Carolina Parker and Frohock families emigrated to Bucks County, PA from England between 1720 and 1730 as part of the Quaker settlement. After Thomas Parker's death in 1742, several sons and grandsons moved to east-central North Carolina where they acquired lands in Northampton, Edgecombe, Halifax, and Granville Counties.
John Parker of Edgecombe, NC who has been definitely established as one of our ancestors, appears to have been a son of Thomas Parker of Pennsylvania.
In North Carolina, the Parkers and Frohocks were Baptists–which was a growing, proselyting faith at that time and drew many members from among the Quakers. The Southern Crown colonies–unlike Quaker Pennsylvania–prohibited Quakers from running for office. In addition, the very real Indian threat was an impetus for many to drop the Quaker stand on non-violence.
The Parker family was ideally suited for American expansion. They were literate and hard-working. They were active in community and church affairs. And once shed of the Quaker faith, they were in a position to take maximum advantage of the benefits offered by the ante-bellum South: free Indian land and slave labor.
While still below the Southern aristocracy, the Parker families are documented as owning 800-1000 acres of good cotton land and 5-25 slaves. The Parker family was the most prosperous of our Deep South ancestors. But they would still have been very poorly educated. There was no public education in the ante-bellum South. Only the most wealthy could afford private tutors and boarding schools.
JOHN PARKER – GENERATION #1
John Parker's (born in 1710) will was probated in Edgecombe, NC in 1762. It names:
Wife: Mary
Sons: John, Aaron, Gabriel
Daughters: Sarah, Margaret, Elizabeth.
Gabriel stayed in North Carolina. Sons John and Aaron moved to Georgia about 1790. There is also a closely related West Parker in Georgia, who may be another brother not mentioned in the will.
John Parker's Sons in Georgia
John Parker, Jr. lived in Green County, GA. Some of his descendants later moved to Alabama.
West Parker moved to Baldwin County, GA about 1806. His son, another West Parker, lived in Marion County, GA in the 1840-50 period. Some of this Parker line also moved to Ouachita Parish, LA in the mid 1800's.
Aaron Parker, Sr. is the line followed by this website.
AARON PARKER, SR. – GENERATION #2
Aaron Parker was born about 1740 in Virginia. He is known to have fought in the Revolution. He married Charity Sheffield in North Carolina about 1780. The couple purchased land in Halifax County in 1783. They were members of the Fishing Creek Baptist Church in North Carolina. The 1784 State Census of North Carolina lists:
Aaron Parker, 1 male over 16, 3 males under 16 and 4 females.
John Sheffield.
John Sheffield also fought in the Revolution and is likely a brother to Charity. One of John Sheffield's sons is named "West." Numerous Parkers and Sheffields move to Georgia about 1790. Many of their names–including Aaron and Charity Parker–are listed in the "Minutes of Powelton Baptist Church."
Aaron Parker is listed as receiving land bounties in 1792 in Wilkes County and in 1793 in Washington County. The Sheffields and Wests are neighbors. (Both Wilkes and Washington Counties were later divided into numerous counties–east of Atlanta.)
In 1802 Aaron and Charity Parker were received into fellowship at the Mars Hill Baptist Church, now in Oconee County (adjacent to Clarke County), GA. In 1823, Aaron Parker resigned as deacon of the Mars Hill Baptist Church to move to Henry County.
According to "The Authentic List of Lottery Grants Made to Veterans of the Revolutionary War by the State of Georgia," compiled by Alex M. Hitz, Georgia Archives, 1966–Aaron Parker was granted extra draws in the Henry County lottery of 1821 due to his veteran status. This is the only evidence we have of Aaron's service. The DAR has recognized Aaron Parker as a Patriot.
A John Parker was elected to the Georgia House of Representatives in 1818 from Clarke County. He seems to be a son of Aaron Parker, Sr.
Another notable descendant was Georgia's Judge John D. Humphries, who published a family genealogy in 1938. This document can be found in the Central Research Library of the Georgia Archives.
Aaron Parker, Sr. died about 1830 in Henry County, GA. Aaron Parker, Jr. served as administrator of the estate that was settled in 1831.
AARON PARKER, JR. – GENERATION #3
Aaron Parker, Jr. was born in 1768 in North Carolina. He came to Georgia with his parents when he was in his early 20's.
He married Margaret Browning (1783-1871) on June 25, 1806 in Clarke County, GA.
Browning Family History
Margaret was the daughter of Joshua Browning and Margaret Rankin Brown. Joshua Browning is listed in the Caswell County, NC State Census in 1784.
Her grandfather, John Browning, appears in the Taxpayers of Caswell in 1769. According to researchers, he married Elizabeth Demarest. Considerable Browning genealogy is available on the internet – but this researcher has not reviewed the information.
Joshua Browning died Jan. 10, 1807 in Clarke County, GA. His will–with Aaron Parker, Jr. as administsrator–lists the following children:
Joshua, who died in 1841.
John, who married Milly East, daughter of Joseph East
Ann, who married Abner Crow.
Nancy
Margaret, who married Aaron Parker, Jr. This is line followed by website.
Mary McClissie.
Two other children not mentioned in the will are Rachel who married Martin Crow and William B. who married Elizabeth Hopkins in 1817.
There are two legal records involving Aaron Parker, Jr. and his mother-in-law, Margaret Browning. In 1841, he was bonded as guardian for $1000 in consequence of Mrs. Browning's alienation of mind. He also administered her estate in 1842.
Several legal documents in Clarke County mention Aaron Parker, Jr. between 1804 and 1821:
"Land Court Minutes, Clarke County, GA 1803-1832." Aaron Parker received 1008 acres of land: 550 by proving head rights and 458 with warrants.
The Clarke County Tax Digest in 1810 mentions taxes for 2 slaves and 268-1/2 acres on Burke's Creek.
The 1821 Tax Digest mentions 240 acres on Robinson Creek.
Aaron Parker, Jr. moved to Henry County about 1821 and remained there until his death at age 98 in 1881. Henry County borders the City of Atlanta. Mr. Parker's property would have been in the neighborhood of Scarlet O'Hara's mythical "Tara" and directly on Sherman's very real "March to the Sea."
The 1830 Henry County census lists two Parkers:
Aaron Parker, Jr. Born 1780-90. 1 son over 15; 1 son between 10-15; 2 sons between ages 5-10. Property transactions indicate that these sons were: Allen, Sanders, Joshua B., and William.
West Parker, the oldest son of Aaron Parker, Jr. Born 1800-1810. 1 son less than 5.
Aaron Parker, Jr. was active in community affairs. His signature appears on many public records as "Justice of the Peace." He was appointed Commissioner of Roads in 1831.
Clarke County Tax Digests reflect Mr. Parker's growing prosperity:
1837 5 slaves, 1852 acres in 4 counties–Henry, Pauling, Irwin, and Carroll
1852 Brushy Knobb District: 16 slaves worth $7400
1858-59 Brushy Knobb Distraict: 24 slaves worth $15,000
He lived in the Brushy Knobb District in Henry County many years where he served as postmaster. "Henry County, Georgia: The Mother of Counties" by Vessie Thrasher Rainer was published in 1880 and states:
"Brushy Knobb–This post office was located in the house of Mr. Aaron Parker (age 97 years in 1880), about ten miles north of McDonough on Highway 155, at the crossroads with Fairview road."
Deteriorating house in McDonough, GA at site described as Aaron Parker's home in 1880.
The 1870 Henry County Census listed Aaron (age 82) and Margaret (age 81) Parker. Their established worth was: real property, $5000; personal effects of $1100.
Aaron Parker, Jr. died in testate with many descendants. An estate of $150 was inherited by Francis Nellie Ray–Aaron Parker's great-granddaughter. Both his son, West, and West's daughter, Emily, had already died. On June 1, 1882, L. C. Ray (Nella Francis Ray's father) was appointed guardian for the minor in Red River County Court. It was this documentation that established this family link.
WEST PARKER – GENERATION #4
West Parker was born about 1807 in Georgia.
He married Mahala George (born 1808 in SC), daughter of Jesse George in Henry County, GA on July 26, 1827.
George Family History
The American Georges are first documented in Barnwell County, South Carolina. They were among the German settlers who were induced to the South Carolina backcountry with offers of land–"The King's Bounty."
A Jesse George (probably "Senior" – Mahala's grandfather) enlisted in the SC 5th Regiment 7/13/1778 and served in a militia unit in 1782. This Jesse George was listed in the 1790 South Carolina census from Barnwell County, Orangeburgh District.
Mahala's father, Jesse George (Junior?), died in 1843 in Clarke County, GA. West Parker was the estate administrator. Internet sites give Jesse George, Jr.'s wife name as Faithey and report that oral history claims she was 1/2 Cherokee.
West Parker – In Louisiana
The West Parker family was living in Ouachita Parish, LA by 1850. The county also included several Rays and Georges that seem to be related. The other Parkers in the county appear to be cousins.
West Parker died 8/8/1854 but the estate was not completely settled until 1868 after the Civil War. Pharis Ray was administrator of the estate. The 10 orphans were:
Joseph W. Parker, 20 years old in 1854 but deceased in 1868 (probably killed during the Civil War). His heirs were wife, Mary, and sons–James, John, Franklin, Madison.
John A. Parker, 18 in 1854.
Madison B. Parker, age 14
Mary J. Parker, age 12 in 1854. She married a Mr. Davids.
Elizabeth M. Parker, age 20 in 1854. She married Mr. Holman.
Sara Ann Parker, age 8
Emily Parker, age 6 in 1854. She married Love Calhoun Ray–son of the estate administrator, Pharis Ray. This is line followed by website.
Mahala Parker, age 4.
West Parker, age 17 months.
The estate in 1854 totaled $10,394, including $4000 in land (800 acres) and 7 slaves.
EMILY PARKER – GENERATION #5
Emily Parker–Eula McAteer Van Leer's maternal grandmother–died while still in her 20's (about 1875) in Red River County, TX. All her family wealth was lost with her father's early death and the Civil War. Her husband is said to have abused her.
As her heritage she left only one child–Nella Francis Ray. But in this child there existed a capacity for hard work and sacrifice. Her daughters were much better educated than their peers. The sons and daughters were adequately prepared to struggle through
The closing of the frontier and the rural way-of-life
The unsettling Roaring 20's
The depression years which were most severe in the Dust Bowl states
Two World Wars.
MOTHER-TO-MOTHER
Is culture passed from mother-to-mother? The webmaster's maternal heritage from photo in 1944:
Me.
Mabel Doris Branaman nee VanLeer.
Eula Nella VanLeer nee McAteer.
Nella Francis McAteer nee Ray.

Not pictured – but identified:
Emily Ray nee Parker.
Mahala Parker nee George.
Faithey George (rumored to be 1/2 Cherokee) 
Sources of McAteer Information
General and Local History Sources
"The Surnames of Scotland," by George F. Black, Birlinn Limited, Edinburgh, 1993.
"Mind of the South," W. J. Cash, Vintage, 1941.
"White Society in the Antebellum South," Bruce Collins, Longman, London, 1985.
"The Carolina Backcountry on the Eve of the Revolution," by Charles Woodmason, U of NC, 1953.
"Scotch Irish Pioneers in Ulster and American," by Charles Bolton, Genealogical Publishing, 1986.
"The Making of South Carolina," by Henry Alexander White.
"History of South Carolina," by William Gilmore Simms.
"History of Newberry County, SC: Historical and Genealogical Annals," by Summers, Clearfield, 1995.
"Laurens and Newberry Counties, SC: Saluda and Little River Settlements 1749-1775," by Jesse H. Motes III, Southern Historical Press, 1994.
"The American Lutheran Church," Dr. Hazelius.
"Scottish Highlanders," Charles MacKinnon, Barnes and Noble, 1984.
"Colonial North Carolina: A History," Hugh T. Lefler & William S. Powell, Charles Scribner's Sons, NY.
U.S. Census records

McAteer Family Sources
Will of William McAteer, 1799 from "South Carolinians in the Revolution," Sara Sullivan Ervin, Clearfield, 1949.
Will of Frances McAteer, 1803 from "South Carolinians in the Revolution," Sara Ervin.
Muster roll from 3rd Georgia Reserves
"Descendants of William A. McAteer," compiled by Sallie Harrison and Ethel Cole, privately published.
Private correspondence by the webmaster.
Sligh Family Sources
"A History and Genealogy of Hans Ulric Schleich of Wieslock, Germany and South Carolina," by Yancey J. Dickert, 611 Chatham Drive, Midland, MI 48640. Available at the Family History Library in Salt Lake City, Utah.
Ray Family History
"House of Ray – 1745-1945," by Louis Duncan Ray.
Baptismal Records – Old Bluff Presbyteriaa Church, Wade, Cumberland County, NC
"The Highland Scots of North Carolina, 1732-1776," Duane Meyer, U of NC Press.
Official records – Georgia, Louisiana, and Texas.
Private correspondence.
Parker Family History
"Aaron Parker of Clarke County, Georgia and Some of His Descendants," compiled by Frank Parker Hudson. A copy is available through the Henry County Genealogy Society, P.O. Box 1296, McDonough, GA 30252.
Private genealogy of Judge John D. Humphries. Available in the Central Research Library of the Georgia Archives.
Official records – Georgia, Louisiana, and Texas.