Anthony Wayne Van Leer
GENERATION 9.6 – SIXTH CHILD OF SAMUEL VAN LEER

Anthony Wayne Van Leer was born 4/6/1783. He built a successful investment and iron empire with most of his investments later being in Tennessee. He was the only one of Samuel's sons to die very wealthy. Anthony married Rebecca Brady 6/12/1816. There were 7 children, but only 2 daughters survived to adulthood.
Cumberland Furnace and the Town of "Vanleer"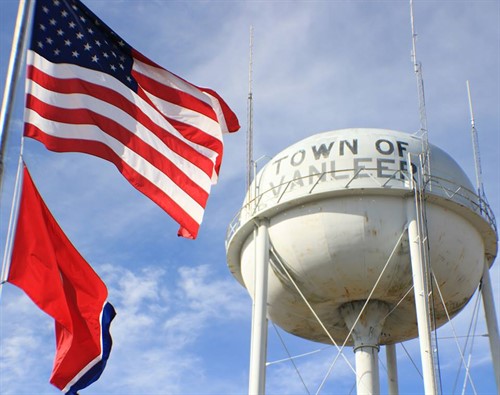 The town of Vanleer, TN remains as a permanent reminder of the Van Leer presence in Middle Tennessee.  The town was named for Anthony Van Leer who owned the land on which it was built. Seeing Tennessee as the next frontier, Anthony quickly bought Furnaces and land from Montgomery Bell. Anthony also continued to operate successful businesses in Pennsylvania. In 1820, the largest slaveholder in the county was Montgomery Bell with 83. After Anthony Van Leer's purchase from Bell it made him 4th with 43. All of Anthony's slaves were paid on average $12 a month. Average pay for civil war soldiers at the time was $11. This is probably due to his PA roots. PA Van Leers and their neighbors are recorded by local historians often sharing the mentality of "honest days works honest day pay."Ref: TN Archives
Cumberland Furnace and the Civil War:
During the Civil War, Anthony shut down his operations as a courtesy to the Union, some of his family moved back to Pennsylvania to enlist and others to Texas or further to avoid war. Anthony's family had close ties to the Union. Anthony is documented frequently travelling to Pennsylvania to meet with family and sometimes to settle legal disputes. Union soldiers burned property, including homes of Dickson County residents that would not sign an oath of allegiance. It is assumed he signed an oath or was considered loyal since his property was not destroyed and is documented as being used as a Union headquarters. Other Van Leer's noted Anthony was a Unionist.
Additional reasons to support the Union might be due to his family's connection to the underground railroad in Pennsylvania and being military officers for the Union. The Van Leers were also strong supporters of free villages, e.g. The Village of Lima. See Civil War story about Isaac Wayne Van Leer here. After the war, Cumberland Furnace's former slaves continued to live in the area and were immediately rehired as "free" laborers by Anthony. Anthony's granddaughter, Mary Florence Kirkman and her husband who was a Union Captain, took over the furnace and brought it back into profitable operation. Descendants of Anthony were connected with Cumberland Furnace more than 100 years–1825-1941.
Capt. Drouillard sold the furnace in 1889 to the Southern Iron Company, which operated the furnace until 1896. Robert B. Stone was a principal stockholder in the company. The furnace was held outside the family from 1896 to 1936. Robert Stone's son, Epps Hardiman Stone, purchased it in 1938 and operated it through 1941. But high transportation costs made it impossible to operate the furnace profitably. The furnace was dismantled in 1941 and the scrap metal was contributed to the war effort.
Cumberland Furnace, TN – Historic Site:
During the 1990's local residents have formed the Cumberland Furnace Historic Village, Inc. to preserve the history of this area.
The only descendant of the three Van Leer brothers known to be living in Dickson County in 1990 was a great-grandchild of Margaret Van Leer, Mrs. Roberta Andrews.
Anthony Van Leer's Descendants:
Anthony Wayne Van Leer died July 9, 1863, in Nashville. He and his wife, Rebecca Brady Van Leer, are buried in Mt. Olivet Cemetery in Nashville.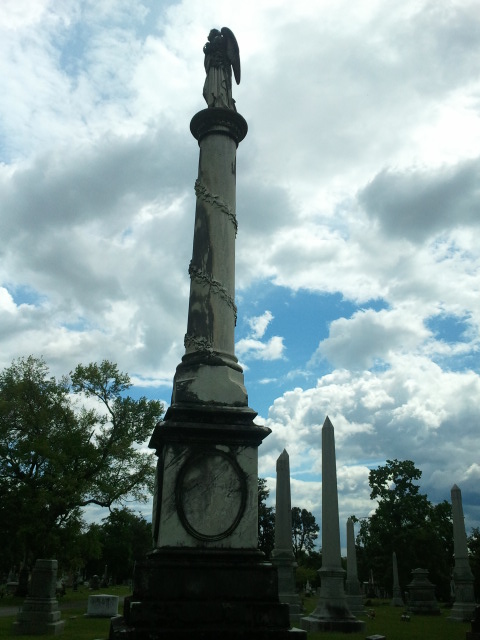 Descendants of Anthony Van Leer, listed below– starting with Van Leer Generation 10– were taken from the "Vanleer Papers" at Chester County Historical Society and the "Drouillard Papers," Tennessee Historical Society.
Information regarding Antoinette Van Leer Polk's marriage to the grandson of the Duc de Berry and Amy Brown came from the "Vanleer Papers," Chester County Historical Society. The historical information on the Duc de Berry was taken from The French Exiles 1789-1815 by Margaret Weiner, published by William Morrow & Company, New York, 1961.
10. Chambers Bruce Van Leer. (1) Born 6/21/1817. Died 6/30/1845.
10. Eliza Helen Van Leer. (2) Born 9/25/1819. Died 8/24/1820.
10. Caroline Van Leer. (3) Born 12/22/1820. Died 12/27/1820.
10. Eleanora Chambers Van Leer. (4) Born 12/21/1821. Died 6/1/1849. Married Hugh Kirkman son of Thomas and Ellen Jackson Kirkamn. The Kirkman home was located at 2122 West End Avenue in Nashville. It was converted to the Nashville Conservatory of Music in the 1940's but has since been torn down. A few homes of this period are still located in this neighborhood.
Although Eleanora died in childbirth in 1849, her husband continued a business relationship with the Vanleers. He managed Cumberland Furnace until the Civil War disrupted work in 1861.
11. John Farrell Kirkman. (1) Born 4/24/1840, Nashville. Died 6/22/1850.
11. Sarah Kirkman. (2) Born 4/24/1842. Died 6/2/1842.
11. Mary Florence Kirkman. (3) Born 8/23/1843, Nashville. Married James Pierre Drouillard, son of Joseph and Sarah Bowen Drouillard of Gallipolis, Ohio. Mr. Drouillard was a captain in the Union army during the Civil War. Mary purchased her brothers interest quickly after the civil war and rehired all the 85 former slaves. They were married at Episcopal church in Nashville on 9/21/1864. Mr. Drouillard re-opened Cumberland Furnace at the end of the Civil War and actively supervised the business until his retirement in 1889. Ref TN Archives
12. Hugh Kirkman Drouillard. (1) Born Cumberland Furnace, Tennessee 7/20/1865. Died 11/3/1900 in San Diego.
12. Van Leer Kirkman Drouillard. (2) Born 7/4//1867, Nashville.
12. Eleanor Chambers Drouillard. (3) Born 2/2/1872, Nashville. Died 1/6/1875.
12. James Pierre Drouillard, II. (4) Born 5/13/1874, Nashville. Army officer. 1st Lt., 4th Tennessee Infantry 6/18/1898. Transferred to 9th Infantry 4/23/1900.
12. Florence Kirkman Drouillard. (5) Born 3/18/1876, Cumberland Furnace. Married 4/28/1896 Bernard Alexandre Georges Edmond, Count de Pourtales.
12. Joseph Chambers Drouillard. (6) Born 4/3/1878 near Nashville. Died 8/18/1890.
12. Anthony Wayne Drouillard. (7) Born 7/22/1883, Vaulx place near Nashville. Died 10/27/1885.
12. Bernard Wayne Drouillard. (8) Born 6/17/1889, Nashville.
11. Hugh Van Leer Kirkman. (4) Born 2/25/1845. Died 8/29/1846.
11. Van Leer Kirkman. (5) Born 2/23/1849. Married, first, Samuella Berry (1851-1880), the daughter of William T. Berry.or Berry; 2 children. Married, second, Katherine Thompson of Oxford, Mississippi (1863-1926); 3 children. Miss Thompson was the daughter of Jacob Thompson of Memphis, Tenn., Secretary of Interior in President Buchanan's Cabinet.
Van Leer Kirkman joined the Confederate Army when he was only 14 years old.
The Kirkmans lived on Oak Hill on a portion of the battlefield of Nashville. The First Presbyterian Church occupies the site today. Van Leer Kirkman and both his wives are buried on the lot.
12. Ella Kirkman. (1) Married Bruce Douglas.
13. Bruce Douglas. (1)
13. Evelyn Douglas. (2)
12. Clark Kirkman. (2) Born 1876.
12. Van Leer Kirkman, II. (3) Born 10/5/1887, Nashville. Graduate of U.S. Naval Academy, 1911. Served on Destroyer Shaw during World War I. Married 8/9/1925 Dorothy Winkle of Salinas, California.
13. Katherine Wayne Kirkman. (1) Born 6/26/1927,
12. Macon Kirkman. (4) Married Miss Short. Lived in Helena, Arkansas.
12. Wayne Kirkman. (5) Died young.
10. Anthony Wayne Van Leer. (5) Born 8/1823. Died 1825.
10. Robert Bruce Van Leer. (6) Born 1/23/1825. Died 11/21/1833.
10. Rebecca Van Leer. (7) Born 9/26/1826. Died 5/28/1904 in Cannes, France. Married Col. Andrew Jackson Polk 1/14/1846 in Nashville. A Confederate veteran, he was born 8/10/1824 and died 3/10/1867 in Vevey, Switzerland. His brother, Leonidas Polk, was a general in the Confederacy.
11. Van Leer Polk. (1) U.S. Consul in Calcutta, India during first Cleveland Administration, 1895. Died unmarried.
11. Rebecca Polk. (2) Died young.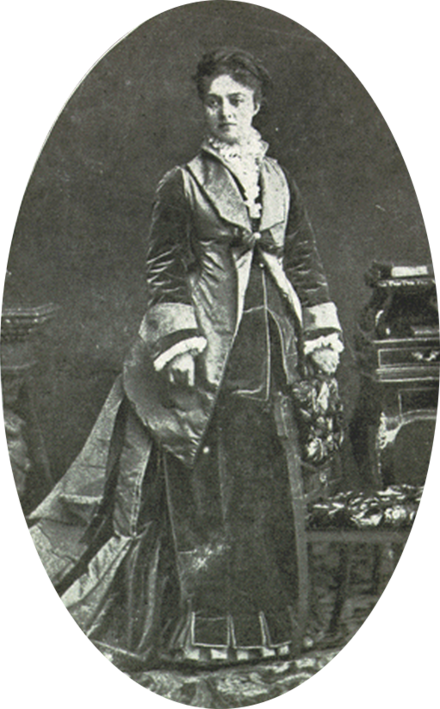 11. Antoinette Van Leer Polk. (3) Born 10/27/1847. Died 2/3/1919 in Brittany, France. Unlike her Van Leer cousins, she obviously had close ties to the Polk family and was mentioned as a "Southern heroine" for saving Confederate soldiers when spotting northern forces while riding between homes on horseback. The "Vanleer Papers" quote an eye-witness as saying:
"Prettiest sight I ever saw was Antoninette Polk, running from the Yanks, down a turnpike road. When old General Rosecrans came into Nashville, she jumped on her horse and broke for home 7 miles away."
After the Civil War, she moved with her parents and family to Rome, Italy where they became close friends with King Humbert I and took up fox-hunting.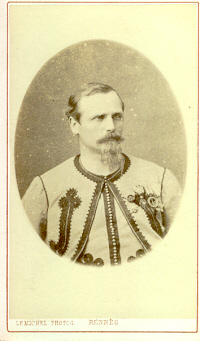 She married General Baron Athanase-Charles-Marie Charette de la Contrie, the grandson of Charles X, the last Bourbon king of France. Polk later became a Baroness and a socialite in Paris and Brittany. After Louis XVI and Marie Antoninette were beheaded during the French Revolution (1793), the king's brother and nephew–the Duc de Berry–went into exile in England. During this period, the Duc de Berry (who is reported by historians to have been temperamental, moody, selfish and extraordinarily ugly) lived a number of years with an English woman named Amy Brown, and they had two daughters. (There are some who claim that there was an official marriage that was annulled by the Pope when the Bourbons returned to power. However, no documentation has been produced to support this claim.)
According to historians, the Duc de Berry would have liked to marry, but no one suitable would accept until the Bourbons were restored in France in 1815. Upon restoration, a royal-blooded wife was secured, and three royal children were born.
The Duc de Berry was assassinated in 1820; a deathbed act was to legitimize his two daughters by Amy Brown. Both daughters later received titles from the Duc the Berry's father–King Louis X. It is the son of one of these daughters that married Antoinette Van Leer Polk.
12. Antoine Polk Van Leer de Charette. (1) Born 7/3/1880 in Paris. Married Susannah Henning of Louisville, Ky. 11/11/1909. Susannah was the daughter of John Henning and Susan Thorton.