Bernard Vanleer
GENERATION 9.4 – FOURTH CHILD OF SAMUEL VANLEER

Bernard Vanleer was born 9/7/1777 in Easttown, Chester County, Pa. He died 1/17/1833 in Tennessee. Married 1/2/1800 Hannah Heslip (born 11/11/1776 and died 8/25/1835). Hannah was the daughter of Thomas Heslip of Pennsylvania and later of Nashville, Tennessee. Thomas Heslip was captain of the 1st Battalion in 1776 with John Culbertson as Major. Hannah was the sister of the Joseph Heslip that was a partner in the Vanleer firm. Heslip was also partners with John Halderman (husband of Bernard's sister Hannah) in Estill County, Kentucky about 1813.
Bernard was active in the iron business in Pennsylvania and later in Tennessee. After retiring from the iron business, he engaged in land speculation in the south. At one point in the 1820's, Bernard and his son owned half the states of Alabama, Tennessee, Mississippi, and Arkansas. There was a tremendous crash in 1837 and Bernard's family suffered a great loss.
Information on the descendants of Bernard Vanleer was taken from the "Vanleer Papers" at Chester County Historical Society, the "Vanleer File" at the Tennessee Historical Society in Nashville, a letter dated 6/24/1989 from George E. Jackson, President of the Cumberland Furnace Historical Village, Inc., and correspondence in 2003 from Clark Van Leer. The descendant's begin with Van Leer Generation 10.
10. Hettie Van Leer. (1) Born 1/17/1801. Married Felix Lanier. The Laniers were in the iron furnace business in Mississippi and Tennessee. Inherited iron furnaces from parents in Perry and Decater Counties, Tennessee, with brother Samuel as trustee.
11. Felix Lanier II. (1) Born 1829. Died 10/22/1907 in a home in Tennessee. Died unmarried.
10. Samuel Vanleer. (2) Born 6/23/1802. Died 1844 at Brownsport, Tennessee. Married 3/24/1826 Amelia Wood Terrass (born 3/3/1807 in Lexington, Kentucky and died 3/10/1893 in Shepersville, Ky.)
11. Bernard Van Leer. (1) Born 3/9/1827. Died 1839.
11. John Stacker Van Leer. (2) Born 11/26/1829. Died 1858. Married Margaret Van Leer, a second cousin.
11. Samuel Van Leer. (3) Born 11/3/1832. Died 1/15/1867. Married 1858 Alice McCorry Clark (born 5/1/1837 and died 1916). Her father was clerk of the Supreme Court of Tennessee. She was the granddaughter of Thomas McCorry (born 10/5/1776 in Ireland) first State Treasurer of Tennessee and a prominent mason. Samuel had a hardware store in Nashville. He drilled, unsuccessfully, for gold in Cherokee County, North Carolina.
12. John Stacker Van Leer II. (1) Born 12/31/1860 in Tennessee. Died about 1930. Married Lillian Dunn in 1895. She died about 1934.
13. John Stacker Van Leer III. (1) No children.
13. Marie Van Leer. (2) Married Jack Rose. Lived in Boston.
12. Samuel Van Leer (Capt.) (2) Born 7/17/1863. Married 12/1907 Olive Quackenbush. No children. Samuel and his younger brother, Carlos, raised a company in Tennessee which served in the Spanish-American War and the Philippine Insurrection. When the regiment was ordered home, Sam raised a company and entered the 37th U.S. Vols., remaining in the Philippines and ultimately entering the regular army as a 1st Lt. of cavalry. After retirement in 1915, he lived in Rhinebeck, New York.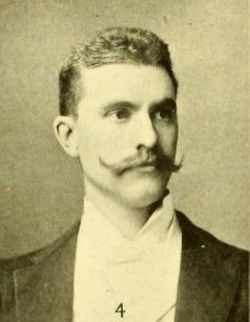 12. Carlos Clark Van Leer (Capt.) (3) Born 10/15/1865 in Nashville. Married 8/23/1905 in Washington, Kansas to Harriet Taylor Draper (born 8/8/1873). She was the daughter of Charles Draper and Mary Marshall. Graduated from Vanderbilt University, Nashville in law in 1895. Later served in the Treasury Department in Washington where he became Chief of the Personnel Classification Board. His son Anthony Wayne Van Leer would also have an established military career.
13. Carlos Clark Van Leer II. (1) Born 1/15/1907 in Washington. Died 1/28/1993. Married 2/14/1931 Mildred Benson. Mildred was born 4/14/1908 in Ottumwah, La. Daughter of Ben Scott and Stella Benson. A graduate of Yale, Carlos II was a stock dealer in Washington in 1938.
14. Carlos Clark Van Leer III. (1) Born 2/12/1936 in Washington. Died 10/23/1999.
15. Clark Van Leer. (1)
15. John Van Leer. (2)

13. Anthony Wayne Van Leer. (Capt.). (2) Born 6/27/1908, Washington. Died 10/15/2000.  Married 10/22/1936 at Great Falls Church, Virginia to Grace Beaman (born 1/13/1907 in Washington). Grace is the daughter of Maurice Reagan and Elizabeth Bailey Beaman of North Carolina. Anthony Wayne graduated Central High School and later from Dartmouth in 1930 in civil engineering. He maintained and grew an established career in the Navy. He served in the Pacific during World War II and was the Commander of the Supply Corps in Hawaii during the Attack on Pearl Harbor. After obtaining the rank of Captain he retired from the Navy and also became a Captain in the Navy Reserves. He was later called upon by the White House to supervised construction and engineering and repairs at the White House during the first administration of President Franklin Roosevelt. He then became the buildings manager for the Justice Department and later assigned as manager of the National Park Service.  He worked for the General Services Administration and Great Lakes Steel before joining the Steel and construction supply firm that became Graham, VanLeer and Elmore. Like his forbears he was be involved in the Steel industry. He was was the president of the Washington Building Congress, a large association with over 1,000 members in the building industry, including:  property owners and managers, developers, general contractors, subcontractors, suppliers, realtors, architects, engineers, government officials, public utilities, accountants and various unions. President of a Washington chapter of the Producers Council and the Kenwood Citizens Association.
He served on the vestry of All Saints Episcopal Church in Chevy Chase and was a director of the citizens association of Sherwood Forest, a member of the Washington Building Congress, Zeta Psi social fraternity, Sherwood Forest Club in Annapolis, Columbia Country Club and Annapolis Yacht Club. His honors included the Severn River Trophy. He spent most of his final days living in the Annapolis area and boating. His tree is survived by Betsy VanLeer Albaugh of Sherwood Forest, and two grandchildren.
14. Betsy Wayne Van Leer. (1)
13. Leila Draper Van Leer. (3) Born 4/9/1912 in Washington. Died 12/9//1999. Married Donald Schwaab 1/29/1938 at St. Margaret's Episcopal Church in Washington. 2 daughters.
11. Joseph Heslip Van Leer. (4) Born 10/8/1835. Died about 1890. Unmarried. Was a 2nd lieutenant and later a 1st lieutenant in Field's Tennessee Infantry Company B1.
11. Ann Terrass Van Leer. (5) Born 2/2/1837 in Brownsport, Tennessee. Died 2/3/1910 in Nashville. Married 8/20/1855 Francis Johnson of Louisville, Kentucky (died 8/21/1860 in Illinois.)
12. Anne Van Leer Johnson. (1) Born 11/7/1857 in Chicago. Died 8/26/1886 unmarried.
12. Frank Johnson. (2) Born 2/27/1859 in Chicago. Died 2/2/1911 in New York City. Married twice. No children.
12. Aimee Terrass Johnson. (3) Born 7/5/1860 in Chicago. Married, first, 10/3/1882 John Cowden (who died 9/18/1887 in Kansas City, Mo.) Married, second, 10/23/1889 Fred H. Benjamin (born 1860 and died 8/23/1929). 1 child from each marriage.
13. Eleanor W. Cowden. (1) Born 7/2/1883 in Nashville. Married 9/2/1918 to Otto Hyden (who was born in Sweden and died 2/28/1921.) No children. Living in Brentwood, Tn. in 1938.
13. Annie Van Leer Benjamin. (2) Born 8/1/1891 in Louisville, Ky. Married 11/11/1921 John G. Coldeway. Died 1/11/1936 in Nashville. No children.
11. Rush Van Leer. (6) Born 9/1839. Died about 1885. Unmarried.
10. Elizabeth (Betsy) Van Leer. (3) Born 10/11/1819. Married Isaac H. Lanier, one of Anthony Van Leer's partners when Cumberland Furnace was bought from Montgomery Bell in 1825. Anthony bought Isaac's and other partner's interest in 1837.