GENERATION 9.2 – Second child of Samuel Van Leer
Iron – The Family Business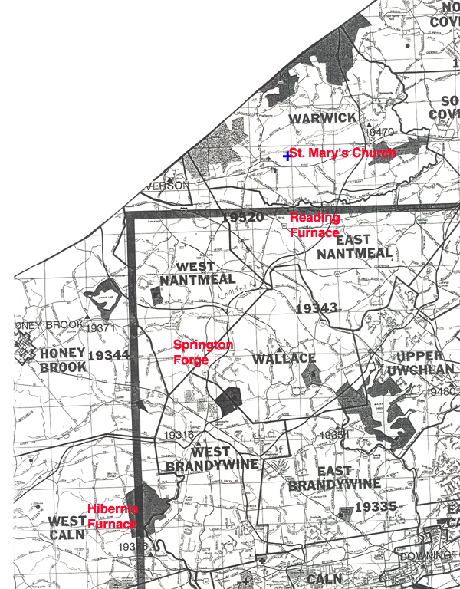 All four of Samuel Vanleer's sons–Isaac, William, Bernard, and Anthony–were active in the iron industry.
According to the "Vanleer Papers,"
"Samuel was closest to his oldest son, Isaac. They appear to have had similar natures. Records indicate that both would negotiate and compromise in business (and usually make a pay-out just to purchase peace).
"Bernard and Anthony, on the other hand, tended to face problems more directly. Bernard appears, through records, to have been a restless sort, hard-hitting and strong-willed."
In disputes, the brothers tended to pair off. Isaac and William vs. Bernard and Anthony.
Numerous partnerships were established in Pennsylvania, involving the 4 brothers and their father, Samuel Vanleer. After the death of William, the business alliances began to break apart. William's widow (Sarah), Bernard, and Anthony sued both their brother Isaac and father to force property sales.
Business Climate of 1812

In addition to family problems, two serious economic issues came into play:
America suffered a depression during the War of 1812.
Iron technology was changing. Extensive capital improvements were needed to remain competitive.
Iron had been discovered in Tennessee in the 1790's. These untapped mines attracted several Pennsylvania entrepreneurs in the early 1800's. Anthony recognized Tennessee as being a good business opportunity and had started operations there by 1814. Bernard joined him shortly afterwards.
Although land and expenses were less expensive in Tennessee than in Pennsylvania, competition was keen. Anthony needed the capital he had tied up in the family Pennsylvania iron business.
Isaac, however, continued to put his efforts into saving the Pennsylvania business, buying out his brothers. In 1816, Isaac was still operating Springton Forge and Hibernia.
"Burdened with a ponderous debt which came largely from his buy-out of William, Bernard, and Anthony–Isaac was, nevertheless, courageously trying to move ahead. His father, always supportive, posted the Iron Bridge lands for sale to help him bail-out." – Estelle Cremers, Reading Furnace, 1736.
Isaac purchased Hibernia Furnace from his sister Hannah's husband, John Halderman, when they moved to Kentucky about 1815. He, then, rebuilt the furnace which
"might have tipped the balance weighs in his favor. But his creditors, including his brothers, moved against him…"
– Estelle Cremers, Reading Furnace, 1736.
According to the Chester County Sheriff and County Treasurer Deeds Book 2 (1806-1823), the Hibernia Iron Works was seized by the sheriff in 1817 at the suit of Bernard Vanleer, Anthony Vanleer and Joseph Heslop (Anthony's brother-in-law and partner in Tennessee). It was sold by the sheriff for $6410.
Charles Brooke purchased the property in 1821. The Hibernia Iron Works were still a highly productive asset. Mr. Brooke's mansion, now a part of Hibernia County Park in Coatesville, PA, indicates that he was the one who "reaped the profits of his (Isaac's) labor." – Estelle Cremers, Reading Furnace, 1736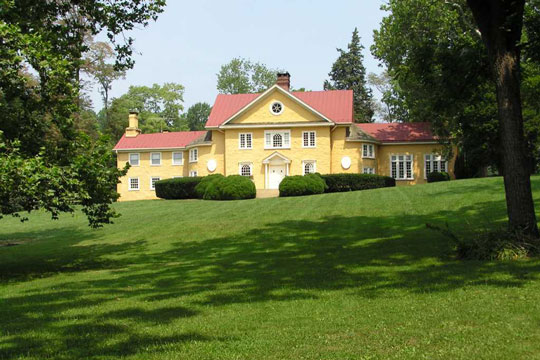 Bankruptcy Proceedings – July 27, 1816
On July 27, 1816, Isaac Vanleer declared himself a bankrupt and turned his property over to his wife's nephew and brother–Samuel and James Culbertson–to settle his affairs. (Chester County Deeds Book 13).
Even in declaring bankruptcy, his personality shows through, expressing "embarrassment." The sheriff's sale included both Springton and Hibernia Forges and Furnaces plus numerous land holdings in Chester County. Since large quantities of charcoal (made by slowly burning of wood) were used in smelting, all iron operations included many acres of forest land.
The properties were sold for $26,533 and disbursed among his creditors–all family members:
| | |
| --- | --- |
| Anthony Vanleer (Brother) | $5,000 |
| Joseph Helsop (Anthony's brother-in-law and partner) | $5,000 |
| Bernard Vanleer (Brother) | $5,000 |
| Sarah Vanleer (Brother William's widow) | $1,000 |
| Executor's of William Hunter's estate (Sarah's relatives) | $4,000 |
| John Templin (Sister Ann's husband) | $4,000 |
| James Culbertson (Wife's brother and executor of Isaac's estate) | $2,000 |
Tennessee
Between 1817 and 1818, Isaac (age 45) and his family followed his brothers to Tennessee. There were continual disagreements with his brothers, especially with Anthony over the settlement of their affairs.
The "Drouillard Papers" state that Isaac Van Leer owned Yellow Creek Furnace at one time. This furnace was built about 1805. Isaac would have lived in Tennessee between 1817 and his death about 1821.
According to George Jackson, President of the Cumberland Furnace Historical Village, Inc., there is a county clerk record showing that in 1820 Anthony Van Leer sued Heslip and Isaac Van Leer who operated the Heslip Iron Works. The suit, however, was dropped from the court docket in 1821 "due to the death of one of the defendants," apparently Isaac.
Wife and Children
Isaac Van Leer married Elizabeth Culbertson on April 17, 1800, at the First Reform Church in Reading, PA. The ceremony was performed by Rev. Philip Reinhold Pauli, a noted Presbyterian minister. The Culbertsons were a well-established Pennsylvania family whose ancestors had fought at the Battle of the Boyne with the first Anthony Wayne.
Isaac's descendants remained in the Calvinist sects for generations–which had been the Van Leer faith since the Reformation. While his grandfather, Bernardhus Van Leer, was apparently uncommitted religiously during his early years, he died a staunch Presbyterian.
Isaac's siblings, however, were all Episcopalians–the traditional faith of their mother's family–the Waynes.
Four children were born to the couple while living at Springton Forge, West Nantmeal, PA. According to the "Vanleer Papers," the stone mansion was still standing in 1937. Isaac and Elizabeth's children–our Van Leer Generation 10–were:
Hannah (1802-1820)
Margaret (1803-?)
Linford Lardner (1806-1808).  He died from a fall and buried with members of the Culbertson family at the Brandywine Presbyterian churchyard. 
Wayne (1810-1881)
The exact date and cause of Isaac's death remain a mystery. "The Drouillard Papers" describe the events as follows:
"He [Isaac] built his furnace and dwelling there [at Yellow Creek], and had a high dam in the creek, to run his furnace with the water….a great a freshet came and washed the furnace, dwelling and all away, and it killed him–the disappointment."