Wayne Affiliated Family
Captain Anthony Wayne, Battle of the Boyne Veteran and American Immigrant
The Wayne family lived for centuries in Derbyshire and tradition places its members in a plentitude of English Wars. In 1688, Capt. Anthony Wayne moved to Wicklow County, Ireland, probably in anticipation of the upcoming confrontation between James II and William of Orange. James II had been deposed in 1688 and had fled to France to assemble an army.
Capt. Wayne commanded a company of dragoons in King William's campaign in Ireland against the deposed James II and culminated in the Battle of the Boyne. He was awarded additional confiscated land in the Irish Pale near Rathdrum, situated in one of the valleys near where the mountains of central Wicklow rise.
Biographers believe that one of his reasons for moving to the New World was that he was miffed with William III for not rewarding him more generously for his contributions at Boyne. The Dutch and German officers who participated in the Battle of the Boyne were apparently better rewarded.
In 1722, Capt. Wayne moved to Pennsylvania with Dutch-born wife, Hannah Faulkner, eight of their nine children, and Wayne's close friend and fellow veteran–John Hunter. It is speculated that Hannah was the daughter of one of the better-rewarded Dutch officers.
The ninth child–Isaac, who stayed in England to finish his education–joined the family two years later.
The Wayne family moved to a 1600 acre estate in Easttown, Chester County, near what became the town of Paoli in 1724. The brick home called "Waynesboro" is now a designated historical site and open for public tours.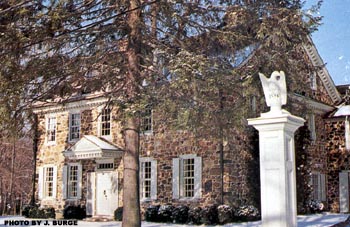 Capt. Anthony Wayne, the veteran of Boyne, died in 1739 and was buried in the churchyard at St. David Episcopal Church near Paoli, PA.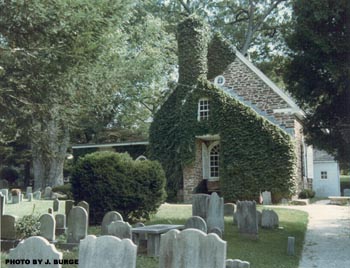 Capt. Isaac Wayne, French and Indian War Veteran
Isaac Wayne was born in Ireland in 1699. He died in 1774 and is also buried in the St. David churchyard.
Isaac was 40 years old when his parents deeded their estate to him under the condition that he was to pay an annuity to his parents for the remainder of their lives.
Isaac, as his father, was a vestryman and pew holder at St. David's. He was known to be a man of industry and considerable spirit with a cragginess that some termed crudity. He was admired by many; detested by some. He made money, built up the largest tannery in Pennsylvania, grew grain, and feed-crops. His militia commission enabled him to go out when the Indians rose or threatened, as he did during the French and Indian War between 1755-58.
Elizabeth Iddings Wayne
Like his father, Isaac married late. When he was reaching forty, he took as his bride a Philadelphia girl, Elizabeth Iddlings of good colonial family and probably 10 years younger.
Miss Iddings' Welsh ancestors came to America 2 generations earlier than the other members of the Van Leer family. Her material great-grandfather–Philip Rytherrack–immigrated in 1690. The Welsh at that time did not use "family" names. Philip Rytherrack's son's name is William Philip, using his father's first name as his last name. Subsequent generations, however, all use "Philip" as the family name.
Several of Miss Iddings' ancestral lines have been traced to southwest Wales. Mr. Rytherrack came from Caermathenshire and William Williams (Welsh for "Junior.") came from the March of South Wales.
Children of Isaac and Elizabeth Iddings Wayne
There were 4 children–
A son–the celebrated "Mad" Anthony Wayne, a Major General during the American Revolution, and 2 daughters:
Hannah, who married Samuel Van Leer
Ann who married Capt. William Hayman
Margaret who married Col. Holstein (information from family correspondence.)
Anthony Wayne – Washington's Front-Line General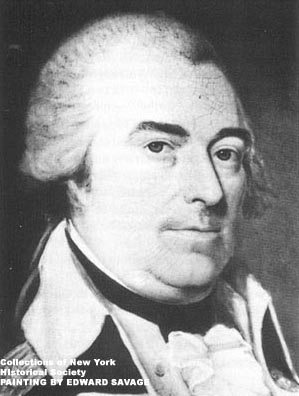 Anthony Wayne made a highly significant contribution to the success of the Revolution. Since published biographies are readily available, this narrative will dwell more on personal, less widely know information.
While still in his teens Wayne came to the attention of Benjamin Franklin as an exceptionally capable and reliable young man. He headed an expedition for Franklin to explore settling Nova Scotia in 1666-67 when he was only 20 years old. His job included surveying the land, procuring land patents, supervising settlers, etc.
Historians believe that it was Benjamin Franklin's support that won Wayne his commission as colonel in one of the four Pennsylvania Regiments on Jan. 4, 1776. He was promoted to Brigadier General on Feb. 21, 1777 and to Major General and Commander-in-Chief of the American Army in 1792.
Wayne is credited with playing an important role in keeping some of the early defeats from being disasters–Brandywine, Paoli, Germantown. And in the later years, it was Wayne who commanded stunning victories at Stony Point, Yorktown, Savannah, and Fallen Timbers. His fanatical determination earned him the nickname "Mad" Anthony Wayne.
While his letters do indicate a real warmth for his children, his letters to his wife, Polly, are businesslike. On several occasions, he was called to Philadelphia on business–but would not bother to visit Paoli (only 15 miles away).
His attitude toward his wife is probably best revealed in a letter sent to her after the Germantown engagement. It had come to his attention that she was selling goods to the British although it was an offense punishable by martial law. The tone of the letter is instructive as though writing to a child.
After the Revolution, Wayne served as Commander in Chief of the Army.   In 1794 Wayne lead the military action against the British led native army in the Midwest.
Anthony Wayne died December 15, 1796, heavily in debt. His personal wealth had been freely used to support the Revolution, and his plantation had been seriously mismanaged in his absence.
Anthony Wayne actually has TWO graves. [See Photos below.] He was first buried under a flagpole beside the blockhouse (now called "Wayne's Blockhouse") in Erie, Pennsylvania where he died on 12/15/1796 on a diplomatic trip. Washington had requested that Wayne be the person to whom the British formally surrender the Northwest forts at a ceremony in Detroit.
When his son, Isaac, sent a one-horse sulky to Erie to bring Gen. Wayne's body back to Waynesboro in 1809, they were unable to fit the corpse into the little sulky. The problem was solved by boiling the body off the bones. The body was left in Erie, and the bones were taken home and buried in St. David's Episcopal churchyard in Radnor, PA near Waynesboro.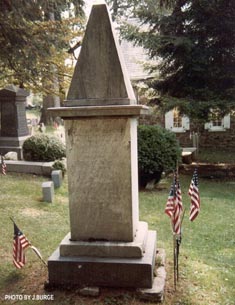 Data Sources for Wayne Family Information
Glenn Tucker, Mad Anthony Wayne and the New Nation, Stackpole Books, Harrisburg, P, 1973.
"Vanleer Papers," Chester County Historical Society, West Chester, PA (Ref. 5 – Lineage Wheel).
Considerable research has been done on the Wayne family in England and is available on