Van Leer was already catching heat for pushing through a vote to allow women into Georgia Tech. The vote passed by a split decision. During the lead up to the 1956 Sugar Bowl, Van Leer received death threats, media and political pressure to cancel this game…
Summary:
Segregationists tried to keep Pitt fullback/linebacker Bobby Grier from playing because he was black. Georgia Tech president Van Leer and coach Dodd met with Governor Marvin Griffin privately who gave his blessing and promised not to interfere. Shortly after Georgia Tech accepted the invitation, Governor Griffin did the exact opposite. He would fire off telegrams to national press and government entities. Griffin went so far as to publicly threatened the Georgia Tech's president to cancel the game. Griffin also attempted to lay pressure on Van Leer through the Board of Regents to fire him. Ultimately, Bobby Grier played making this the first integrated Sugar Bowl and is regarded as the first integrated bowl game in the Deep South. Van Leer would die two weeks after the game due to stress.
Van Leer and Griffin Clash publicly
Students riot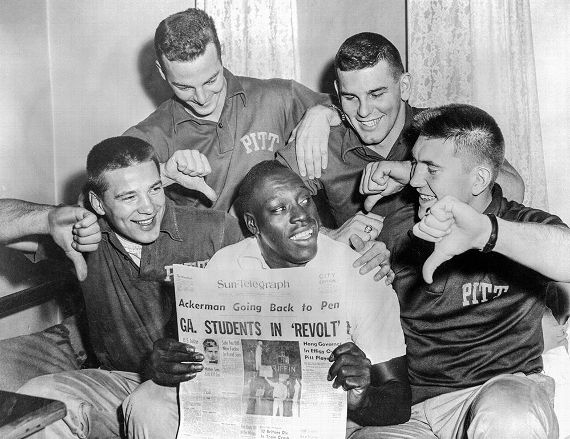 Van Leer Georgia Tech Meeting
Game Day
The story is celebrate by Grier & Van Leer's descendants Rob Grier and Blake Van Leer III who are friends to this day. Archive content, letters, recordings and other items available upon request.